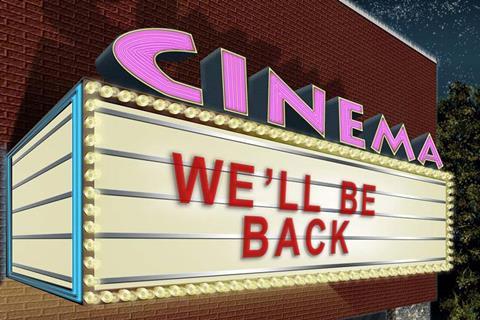 Cinemas in France will be allowed to reopen from June 22 under French government plans to progressively lift a national lockdown put in place mid-March to slow the spread of Covid-19.
France began a first phase of easing restrictions on May 11. The second phase of lifting in the lockdown is due to begin June 2.
French prime minister Edouard Philippe outlined details of the health situation in France and how the second phase would be implemented in a televised address on Thursday afternoon (May 28).
The National Federation of French Cinemas (FNCF) has indicated that the sector will need four weeks to get up and running again from the moment it is informed it can re-open, to implement hygiene protocols and liaise with distributors to sort out programming.
On this basis, theatres could be expected to open their doors from end-June to early July.
The FNCF welcomed Thursday's announcement.
"The role of the cinemas in our towns as emblematic places of culture and entertainment that are open all year and as places of social cohesion that are anchored in the lives of the French makes this reopening particularly symbolic," said the federation's president Richard Patry.
"I'd like to think this date wil mark a new phase in our country exiting this crisis."
Cinema owners now face the challenges of modifying their venues and operations to fit new hygiene protocols, finding films and coaxing the audience back through their doors.
France's 2,045 cinemas, comprising 6,114 screens, have been inactive since March 14, when they were ordered to close as part of the country's first lockdown measures. The entire country went into lockdown on March 17.
Under its plan to ease the lockdown, the government has divided France into green zones, where the virus exists but is under control, and orange zones, where the virus is circulating more widely and more vigilance is required.
Philippe indicated that cinemas in departments classed as green zones could have been given the greenlight to reopen from June 2 but that the government had opted for a uniform reopening of cinemas across the country on June 22 at the request of the exhibition sector.
Crucially, the Ile-de-France region, within which Paris is situated, is one of just three regions still classed as orange, alongside two overseas departments. Home to 311 cinemas with 1,147 screens, the Ile-de-France is a major region for cinema-going and the French box office.
Other public spaces such as museums, theatres, sports halls, gyms and swimming pools will be able to reopen from June 2 in the green zones and June 22 in orange zones, with social distancing and hygiene protocols in place.
In other announced measures, cafes and restaurants will be able to reopen on June 2 in all green zones, but with no standing clientele, while only terraces will be able to open in orange zones. Masks will be obligatory for waiting and kitchen staff and customers will be required to wear a mask when they move about the establishment.