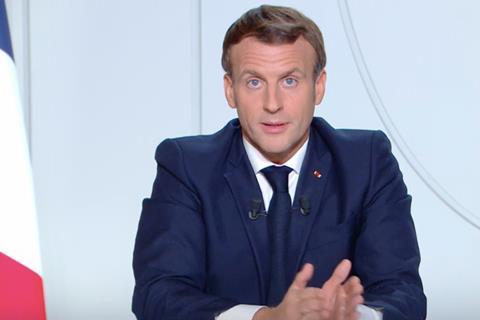 French cinemas will close their doors for a second time this year as part of a new national lockdown to combat a second wave of Covid-19 in the country, President Emmanuel Macron announced on Wednesday (October 28).
"We are all being overwhelmed by a second wave which, we know, will doubtless be harder and more deadly than the first one," Macron said in an address to the nation.
The new lockdown will take effect nationwide from midnight Thursday to Friday (Oct 30). It is expected to last at least until December 1 and could be extended. Macron said the aim was to lower the level of registered daily cases from around 40,000 now to 5,000.
The restrictions will be slightly lighter than the first lockdown last spring in a bid to keep the economy turning over.
"Factories, farms and public buildings will continue to operate. The economy must not stop or collapse," said the president.
Nurseries and schools will remain open as will workplaces, but the population will be encouraged to work at home where possible.
Food shops will also stay open but all other activities including cinemas, bars and restaurants will shut down.
People will only be allowed out to do essential shopping, exercise close to home, and help loved ones in need of support.
The country's European borders will remain open but external borders will be closed apart for returning French citizens.
It is the second time French cinemas have been closed down as part of France's measures to slow the spread of Covid-19. They were shut from mid-March until June 22 during the first wave of the pandemic.
Following their reopening, audiences had started building from late August thanks mainly to a steady stream of mainstream local comedies and dramas as well as Christopher Nolan's Tenet, which helped kickstart cinema-going following its release in France on August 26.
This recovery has come under pressure in recent weeks as cases of Covid-19 started to rise, prompting new restrictions. The introduction of a 9pm to 6am curfew in Paris and eight other major cities on October 17 was seen as a particular blow, especially after it was subsequently extended to more than half the country.
The lockdown will also be a fresh blow to the country's independent distributors, most of whom have maintained their releases in the face of challenging conditions.
A dozen films had only just hit cinemas on Wednesday morning including Maïwenn's DNA for Le Pacte, Claus Drexel's Under The Stars Of Paris for Diaphana Distribution and My Best Part for Les Films du Losange. Other films on release include Albert Dupontel's Bye Bye Morons (Gaumont) and Peninsula (ARP Distributions).
"It's particularly frustrating because there were some 3.3 million spectators in our cinemas last week in spite of the curfew, which was the best week since June 22," commented Marc-Olivier Sebbag, managing director of the National Federation of French Cinemas.
"But at the same time we're also taking heart from the fact that the past week's figures show there is a still a love of cinemagoing in the country after all that has happened in the past months."
Sebbag also emphasised that this second closure of cinemas was not due to health fears around cinema attendance but rather as a package of measures aimed at reducing the circulation of the population.
Macron's announcement came on hot on the heels of German Chancellor Angela Merkel's unveiling of a "lockdown lite" under which cinemas in Germany will close for at least a month from November 2 along with theatres, opera houses, concert halls and clubs, as well as restaurants and pubs, apart from takeaway services.
The measures are in response to a wave of Covid-19 infections in Germany, which hit a record 15,000 daily registered cases on Wednesday. Up until recently, the country has been seen as an example of how to manage the pandemic, having kept the spread of the virus under control.
Elsewhere in Europe, Italy decided to shut cinemas, theatres, discos and gaming halls on Monday (October 26) as daily registered cases rose above 20,000. The measure will last at least until November 24 but is expected to be extended.
Most cinemas in Belgium are set to close from tonight (October 28) after the Federation of Belgian Cinemas (FCB), whose members account for some 85% of the box office, took a unilateral decision to shut, rather than wait for a government decision.
Prior to this move, cinemas in the capital Brussels had already been shut for a week on government orders, while theatres in the rest of the country were able to stay open until 6pm.