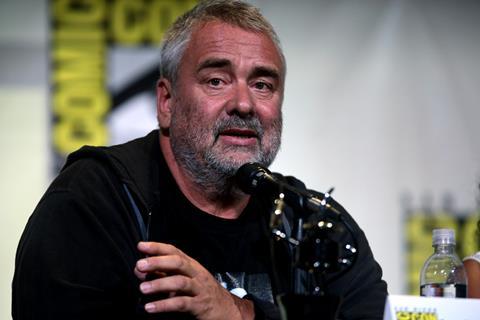 A Paris criminal court prosecutor has recommended French producer and director Luc Besson be given a 10-month suspended prison sentence for the alleged discriminatory dismissal of a personal assistant, French media is reporting.
The request was announced at a hearing in a criminal court on the outskirts of Paris on Wednesday.
The prosecutor also asked that a $33,000 (€30,000) fine be levied against the director and another separate €50,000 ($55,000) fine for his film company EuropaCorp. The court's final decision will be announced on January 8, 2020.
The case is related to events that took place in 2017 and a woman, named only as Sophie F., who worked as the EuropaCorp chief's personal assistant in France for four years up until the end of 2017.
Besson and EuropaCorp are being tried for breaking employment law after the woman was fired while on sick leave, ordered by her doctor after she collapsed due to stress.
The court heard that Besson accused his employee of going on sick leave for "fraudulent motives" after he refused her time off over a key French holiday weekend.
However, four doctors who examined the plaintiff between October and December 2017 – including one hired by Besson's lawyer - concluded that she was not fit to work.
Despite this, the woman was called in for a meeting and told she was being made redundant on the basis of serious misconduct. It is against the law to sack someone on health grounds in France. The case landed in the criminal courts after an investigation by a labour inspectorate.
At the hearing, the prosecutor compared the woman's situation to Anne Hathaway's over-worked character in 2006 comedy-drama The Devil Wears Prada. The plaintiff has already won a ruling of "mental harassment" against Besson in a separate case brought in a French employment tribunal.
Besson was not present at the hearing on Wednesday. His lawyer said the plaintiff had not been fired "because" she was ill but rather "during" her period of illness. He said Besson had fired the woman because he believed her move to take sick leave was related to his refusal to give her time off at a time when the company was busy with the shoot of Anna in Moscow and the French release of Miss Sloane. He criticised the severity of the recommended sentence.
In the backdrop, Besson is currently being investigated in relation to allegations of sexual assault by actress Sand Van Roy. A judge reopened a rape investigation in October, eight months after Paris prosecutors dropped a case brought by the actress. Besson has denied the allegations, saying he was in a consensual relationship with the actress.
The director and producer is also currently battling to keep his heavily indebted film empire EuropaCorp afloat. The company was placed under court protection for six months in May to give it time to restructure its debts, which was extended by another six months in October. Negotiations are currently underway on a deal in which New York investment fund Vine Alternative Investments would take a majority stake in the company.