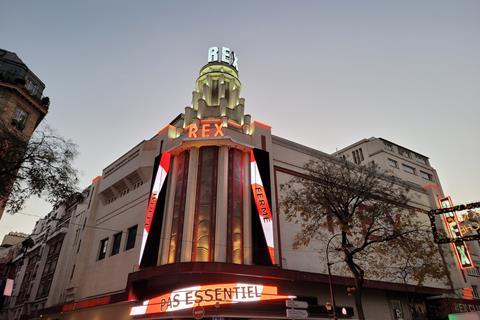 Hopes of an early spring reopening for cinemas in France have been dashed by a Covid-19 surge over the last two weeks that has led to new restrictions in 19 regional departments, including Paris and the Ile-de-France, until mid-April.
"We're now in a situation in which infections are very high but the expectation is that a month from now, things will be clearer at which point the government will be able to announce a calendar," says Marc-Olivier Sebbag, managing director of the National Federation of French Cinemas (FNCF).
Alexis Mas at Condor Distribution had been planning an April release for Bosnian director Jasmila Zbanic's Oscar hopeful Quo Vadis, Aida? but is now plotting an autumn launch preceded by a French marketing tour with the director to lay the ground for the release.
"We'll wait for the Oscars now," he says referring to the April 26 ceremony from which the nominated drama could walk away with best international film. "A work like this needs preparation and with everything shut until at least mid-April, that's just not possible."
Quo Vadis Aida? is among a backlog of some 300 to 400 feature films estimated to be awaiting a theatrical release in France, after some 240 days, or eight months, of cinema closures since March 2020.
Mas reports flagging spirits within the distribution and exhibition sectors as the pandemic continues. He says the current second period of closure that began at the end of last October is proving harder to bear.
"The turning point was the false promise of a reopening on December 15. When this was cancelled there was a real drop in morale," he says.
"Up until then there was a sense of hope, especially as audiences had started to build following the first reopening, proving the public was there,'" he adds, referring to the June 22, 2020 reopening after 14 weeks of closure last spring.
The disillusionment is also mixed with anger that while cultural spaces including cinemas have been shut, non-essential shops and shopping centres have remained open in this period, although they too have now been ordered to shut in the regions hit by stricter restrictions.
"It was a slap in the face when cinemas were made to close while the department stores were allowed to stay open, especially given how we [distributors and exhibitors] had pulled ourselves up the hill again from June 22, in an exemplary manner. The only thing to do in France these last few months has been stay at home, or consume" says Eric Lagesse, CEO of Pyramide Distribution.
His unreleased films range from Céline Sciamma's Berlinale Golden Bear contender Petite Maman to Cannes 2020 label title Simple Passion, which physically world premiered at San Sebastian, and Iranian drama Sundance 2020 grand jury prize winner Yalda, which had just been released on October 20 when cinemas shut.
"Scientific studies in Germany, by the Pasteur Institute [in France], have demonstrated that cinemas aren't any more dangerous than other locations like a shopping mall. The sudden closure of cinemas in October was brutal for the films on release," continues Lagesse. "All this time that non-essential shops were open – November, December, January, February and half of March, cinemas could have been open too. It would have allowed us to release a certain number of films. Now we have some 300 films sitting on the shelf with no idea of how we are going to release them."
#OuvrezLesCinémas
The week before the new lockdown measures, the FNCF mounted a social media campaign bannered #OuvrezLesCinémas (#OpenTheCinemas) to put pressure on the government to deliver a potential reopening date.
Timed to coincide with the one year anniversary of the beginning of the first lockdown on March 14, 2020, the campaign put pressure on the government to apply the same rules to cinemas as non-essential shops.
"We know cinemas can't open now but at the time our message was open cinemas as soon as possible, people are fed up of sitting at home or simply consuming," says Sebbag.
Alongside the FNCF campaign, some 20 independent cinemas reopened their doors for one-off, public free screenings over the weekend of March 13 to 14, to protest their ongoing closure.
Directors and acting talents also participated in the push, with 800 of them signing an open letter to French President Macron and while others lobbied hard at this year's edition of the national César film awards.
The government refused to be drawn on potential dates. Instead, it unveiled a three-stage reopening plan, staggering an increase in permitted audience capacities at 35%, 65% and then 100% over the course of six weeks to two months. Similar plans have been announced for the hospitality and retail sectors.
"The trouble is that we don't know when the first stage will start," says Sebbag.
Moving dates
In the event the government sticks to its three-point plan, Sebbag says the FNCF would like to see the reopening begin as early as late April, early May. If the plan was ditched so that cinemas could reopen with 100% from the beginning, a later date would be acceptable.
Mas is sceptical the three-point plan will ever be implemented but he also believes a May reopening is increasingly unlikely. "A couple of weeks ago, a sort of consensus seemed to be building in the business that cinemas would re-open around the start of May. Proof of this was that big studios were beginning to date films for this period," he explains.
He now thinks a June re-opening is more likely, with a near repeat of last year's timetable. "I'm not saying cinemas will reopen on June 22 again but given the seasonality of the virus and the hopes around the vaccination, June looks like a safer bet," he suggests.
In the backdrop, a number of studios and mainstream French distributors have been dating titles for end-May to early June.
UPI France has set June 16 for Anne Fontaine's political comedy Presidents, starring Jean Dujardin and Grégory Gadebois as thinly veiled reincarnations of Nicolas Sarkozy and François Hollande; Metropolitan Filmexport is lining up The Mauritanian and The United States vs. Billie Holiday for June 2 and June 30 respectively, while Gaumont has announced a June 16 release for comedy Family Swap and August 4 for spy spoof From Africa With Love.
Guillaume Bachy, co-vice president of the French Association of Arthouse Cinemas (AFCAE), which represents some 1,100 independent cinemas, generating roughly 25% of France's annual box office, is also sceptical about a May reopening.
"Given the new restrictions, especially in the Ile-de-France, which accounts for 40% of the economy, hopes of a May reopening are in danger," he notes.
He suggests the potential reopening date should take its cue from the pace of the country's vaccination campaign and identifies July 14 as a better target date.
"July 14 is the date announced by the European Union for herd immunity to be achieved in Europe," he explained. "Of course, the earlier cinemas can open under good conditions, the better for the members in our network but the current situation doesn't lead me to believe that we'll be able to reopen in May."
Bachy added that the AFCAE is paying close attention to what is happening across Europe with regards to cinema openings and in particular the UK's target of May 17 under current plans for the unlocking of the country. "The UK's date May 17 is a marker for us, like a lighthouse. We thank our colleagues over in the UK for the work they've done in negotiating to achieve this date. Every time we go into a meeting with our government it's a date we quote as a destination we'd like to arrive at too."