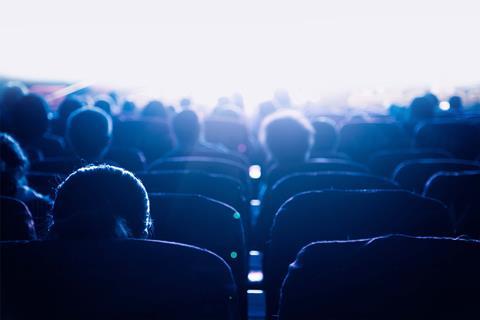 France's exhibitors could learn this week whether the French government will allow the reopening of cinemas as part of the second phase of its easing of lockdown measures implemented in mid-March to slow the spread of Covid-19.
Prime minister Edouard Philippe is due to announce details of this second phase, scheduled to begin on June 2, on Thursday (May 28) following a cabinet meeting, according to local media reports.
Exhibitors and distributors are hoping Philippe will give the greenlight for the country's 2,045 cinemas to start up their activities. Their 6,114 screens have been dark for nearly 11 weeks now, following the order to close on March 14.
Beyond the fact that Covid-19 cases and related deaths have fallen steadily in France since early May, culture minister Franck Riester further fuelled optimism last week when he said in a radio interview that his ministry was "working towards reopening cinemas at the beginning of July".
Philippe could also pronounce plans for other closed public spaces including cafes and restaurants, museums, concert halls, campsites and attraction parks, as well as schools for older pupils.
Under a first phase in the easing of restrictions which began on May 11, shops and schools for younger pupils reopened and the population was allowed to move freely within a radius of 100km from home. On the back of the improved health situation in France and the experiences of Italy and Spain, which have not seen a resurgence of Covid-19 cases as they lift their lockdowns, the country is expected to speed up its lifting of restrictions.
"I've heard from government contacts that it will be good news on Thursday," said one Screen source not involved in exhibition.
Marc-Olivier Sebbag, managing director of France's main exhibitor body the National Federation of French Cinema (FNCF), cautioned, however, that it remained to be seen whether Philippe would make any announcement on cinema.
"Nobody knows. It could be rather next week," he said, when quizzed on what he was hearing. "We've said that we will need four weeks to sort out programming with distributors and the technical aspects of starting up again and implementing new hygiene protocols. If we get the authorisation for June 2, we're looking at a reopening from early to mid-July."
To mask or not to mask
Short-term challenges will be modifying venues – both physically and operationally – to adhere to new sanitary protocols and finding films. Another challenge will be negotiating working conditions with staff who will be on the frontline at a time when the virus remains in circulation.
Sanitary guidelines are currently being validated by French health authorities. They are expected to include social distancing of groups inside the theatre and in the foyer by at least one metre as well as encouraging spectators to pre-buy their tickets online, rather than on site. A decision on whether masks will be obligatory has yet to be announced.
David Obadia, who programmes a number of arthouse venues mainly in and around Paris under the banner of his company Dopic, suggested that obligatory masks would deter spectators from returning to cinemas.
"The big question is not when cinemas will reopen but rather under what conditions. If they're allowed to reopen on July 15 but all the spectators have to wear masks, they may as well stay closed," he said. "I can't imagine many spectators are going to want to sit there for two hours with a mask on."
François Aymé, president of the French Arthouse Cinema Association (AFCAE), is also hoping for a July reopening but suggested some smaller independent venues may sit out the summer.
"We're working on two very loose hypotheses of either early to mid-July or end August to early September. I get the sense that across Europe there is a push for July, which makes sense, especially for the big US titles which can't come out in one or two territories only. If Tenet still comes out on July 22 [in France], maybe we'll open a week ahead of that," he said.
"For 100% arthouse venues it could be a different story, especially if there are no films, but it's hard to get a sense of what will be available until we know when cinemas can reopen and distributors start redating their films. No-one has indicated to me that they're considering delaying – most are eager to get their theatres up and running again."
Some 60 films that were in cinemas on March 14 or destined for theatrical release during the lockdown have been released early on VoD following an emergency National Cinema Centre (CNC) derogation breaking the country's strict media windows. Distributors, in the meantime, cannot redate unreleased titles without clarity on when cinemas will open and many may be reluctant to launch films in the immediate aftermath of the lockdown.
Against this backdrop, Obadia says he is planning to re-programme films that were in theatres when they shut on March 14 and have not played on VoD as well as thematic offerings.
Films he plans to bring back include Hadrien La Vapeur and Corto Vaclav's documentary Kongo about a Congolese healer. Distributed by Pyramide, it had been on a limited release for just three days when cinemas shut.
Obadia is also setting up an on-demand initiative for a new multiplex in the northern city of Bethune, which had just launched as the pandemic hit. "I've created a selection of films on a Facebook page – some of them quite old – and asked local cinemagoers to choose which ones they would like to see."
He is sceptical that Christopher Nolan's sci-fi thriller Tenet could still be released on July 22.
"I can't see any the big titles coming out before September at the earliest," he said. "It makes more sense to use these summer months to get the cinemas up and running again, so that staff and venues are back in the swing of things for September and October when the public is likely to return."
Uncertainty remains
Obadia suggested the situation could be even more complex in Paris's competitive exhibition scene where it was already hard for independent theatres to secure titles. Added to this, the Île-de-France region, within which Paris is situated, was one of the parts of the country hardest hit by the virus. This led to it being classified as a red zone under the first phase of the lifting of the lockdown, meaning restrictions are being eased more slowly.
This could have implications for the region's 311 cinemas and 1,147 screens although this classification could change on Thursday. FNCF's Sebbag said the body is against a partial reopening of the cinemas. "We have asked that it be a uniform move across all of France," he explained.
Obadia suggested that once Paris's cinemas are up and running, arthouse venues like the ones he programmes could benefit from being neighbourbood cinemas with a loyal and local clientele.
"It's a militant public who will come to their local cinema almost as an act of solidarity," he commented.
Big mainstream venues which are reached mainly via public transport links such as the 27-screen UGC Les Halles multiplex in the Forum des Halles shopping centre could have a tougher time.
Aymé said he is planning a soft reopening for his five-screen Jean Eustache Cinema in the Pessac, a suburb of Bordeaux.
"We'll run one or two screenings a day in each theatre. The plan is to leave one seat free between each group and then one row out of two empty, alternating rows between screenings so that seats will only ever be used once during a 24-hour period," he explained.
The coming months will be challenging for independent theatres and the survival of some will depend, Aymé suggested, on the joint efforts of professionals in the independent exhibition sector, the CNC and local councils, which hold stakes in some 1,000 small-town cinemas across the country.
"When there's a public funding crunch further down the line, mayors may find themselves choosing between the local swimming pool, sports club or cinema," he said. "There needs to be a concerted effort to keep theatres open similar to the late 1980s when the box office came under pressure."
Aymé added that smaller independent venues situated in relative proximity should also work more closely, pooling resources and events to cut costs.
"It already happens to some extent with programming but there is more that could be done," he said. "Many of these venues are fiercely independent but in the current climate it would make sense for them to work more closely together. It's hard to amortise costs in just one venue."
Sebbag warned that the most dangerous period for the whole French exhibition circuit will be the interim months between the ending of state-backed emergency measures such as furlough schemes paying staff wages and receipts picking up.
"The exhibitors are the one part of the cinema chain that has not had any economic activity at all and while we've benefitted from general measures aimed at the economy the future remains very uncertain."
In a light-hearted poll of 1,000 people back in April, in the early weeks of the lockdown, 52% of participants said the thing they most wanted to do once restrictions were lifted was go to the cinema, making it the second most missed activity after going to a café or restaurant.
"It's heartening but it remains to be seen whether people will really want to come back immediately into cinemas. It could be that they would rather go to the beach. There are a lot of questions and worries and few certainties right now," said Sebbag.