Netflix statement said it was "exploring theatrical distribution" for their Cannes Competition titles.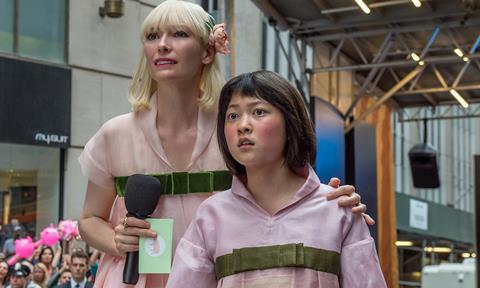 The French film industry has reacted with bemusement, and scepticism in many quarters, to Netflix's announcement this week that it is mulling a limited theatrical release in France for Okja [pictured, top] and The Meyerowitz Stories, its first ever titles to make it into Official Selection in Cannes.
The inclusion of Korean filmmaker Bong Joon-Ho's Netflix-backed action adventure Okja and the streaming giant's recent acquisition The Meyerowitz Stories (New and Selected) in the main competition at Cannes has drawn the ire of French exhibitors and also reignited a long-running debate about France's strict media chronology laws.
Read more:
First English trailer for Philippe Garrel's Cannes title 'Lover For A Day'
In a statement put out on Wednesday, the company said it was "exploring theatrical distribution" for the two films in France "for a limited theatrical run, day and date with the films' release on Netflix".
The company did not respond to questions regarding the detail of how it was planning to do this, although French media reported a limited release was planned in a handful of cities.
Strict laws
Any attempt to do a limited theatrical release for the films by Netflix and a local partner at the same time as they stream on its French service would contravene local media windows legislation requiring a 36-month window between a feature's debut in cinemas and its distribution online.
It is also unlikely French cinema theatres would get involved in such an operation.
Industry veteran Jean Labadie, founding chief of production and distribution house Le Pacte, questioned how the streaming giant could meet its previously announced global launch date of June 28 for Okja and legally theatrically release the title in France.
"Netflix made a teaser which is very clear: Okja will go out on its platform as exclusive content on June 28, and I imagine that means for the whole world. Surely, they won't wait to show the film in France, or any other country," he said.
"Being in Cannes is part of their publicity campaign and there is no reason for them to follow the French legislation which gets in their way."
Wild Bunch co-chief Vincent Maraval – one of the most vocal French critics of the media chronology laws – said the current Netflix-Cannes debacle was yet another sign of the hypocrisy and incongruity of the current system.
"Does it make sense? Of course not. Netflix has simply understood the mentality of the French and is selling them a smokescreen behind which they can hide their hypocrisy."
"If I were them I would release the film on a single screen in Vesoul in the same way French distributors do when they want to qualify to touch Canal [Plus]. That would wake the French industry up to its hypocrisy and refusal to adapt," he said, implying distributors organise token screenings for feature-length films outside Paris to tap into Canal Plus's film investment obligations.
"The reality is that the media chronology legislation was conceived way before the internet and internet piracy. The film industry is refusing to face up these new circumstances to preserve a system which generates privileges under the cover of cultural exception. It's a hijacking of cultural exception which simply protects the monopoly of the big groups."
FNCF statement
Referring to the statement by French exhibitor body the National Federation of French Cinemas (FNCF) protesting the fact it had not been consulted on the inclusion of the Netflix titles in Official Selection, Maraval suggested that the big cinema chains had been less than supportive of films selected by Cannes in the past, especially for Un Certain Regard.
"When the FNCF, which is nothing more than an association of big groups, the main activity of which is to sell sweets, accuses Cannes of selecting films without consultation, you'd think you were in North Korea."
"It would be great if the cinemas could ask Thierry Frémaux his opinion on their programming more often. Bong Joon Ho's film is cinema because it will have a massive release in his home country, there's no ambiguity there. Do they stop French films showing in Venice or Berlin because they won't get an Italian or German release?"
"What right does the FNCF have to determine what gets shown at an international festival, given that majority of these cinemas refuse to show most the films in Un Certain Regard and much of the Competition. How many of these cinemas showed Brillante Mendoza's film from last year. Should it too have been excluded?"
Overdue debate
Another industry professional commented privately, "I wasn't that surprised by the statement of the FNCF but I was surprised by the Netflix announcement. Why should they care? Theatrical is not part of their model. I was intrigued that they decided to get involved."
"I don't see how a release can go ahead. Will Netflix challenge French law? The debate opened up by the inclusion of these titles in Cannes is not a bad thing. It might make the CNC finally wake up to the fact that the system is out of touch with reality," he added, referring to France's National Cinema Centre which oversees the state-backed film financing system and adhesion to the chronology on which it currently rests.
He and Maraval belong to a growing number of French film professionals who would like to see the system overhauled and more freedom given to rights-holders to distribute their content over multiple windows as they see fit.
Maraval would also like to see an end to legislation governing which days feature films can be shown on French television and a re-introduction of the controversial HADOPI piracy law targeting individual offenders.
In the backdrop to the industry debate, it seems Netflix's presence in Cannes will also be up for discussion among the organisers of the Official Selection and the parallel sections Directors' Fortnight and Cannes Critics' Week.
Directors' Fortnight chief Edouard Waintrop indicated at the press conference for this year's line-up that all the Cannes selections might come up with a blanket rule on what approach to take when a film is not guaranteed a theatrical release but admitted it was a complicated issue.
Le Pacte's Lebadie suggests films that are not guaranteed a theatrical release should only screen Out of Competition.
Referring to Okja, he said: "It will be a dramatic moment for the value of the Palme d'Or, if the film wins the Grand Prix and then is only seen on Netflix or an equivalent platform, and not in theatres, apart from in Korea. An Out of Competition screening would have been better for everyone."
Read more:
Cannes 2017: Directors' Fortnight line-up
Cannes 2017: Official Selection in full
Cannes 2017: Critics' Week line-up