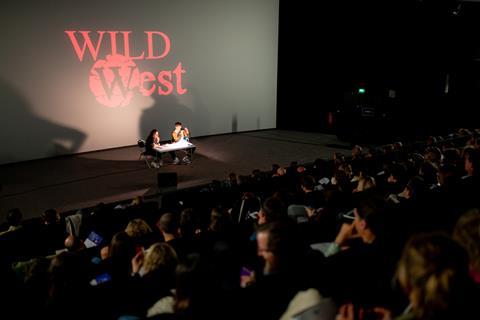 French-language genre incubator and production company Wild West, which was launched last year as a joint venture between Wild Bunch International (WBI) and Capricci, has unveiled its second slate of projects at a special event in Bordeaux.
The meeting, running June 8-9, gathered emerging screenwriters and directors, sales and acquisition professionals, film financiers and special effects specialists for two days of pitching and networking
"The aim is to get the big financiers of French cinema to Bordeaux and create a dialogue around French-language genre cinema and these projects in particular," explained Capricci head Thierry Lounas, who spearheaded the creation of Wild West with WBI co-head Vincent Maraval.
"We're trying to get companies on board at the development stage and to begin conversations around special effects and cast early on," he continued.
Attendees this year included broadcaster-backed production and distribution companies Studiocanal, SND and Orange Studio, pay-TV giant Canal+, sales company WTFilms, distributor Le Pacte, film companies Pathé and mk2 Films, special effects company Mac Guff and CAA Media Finance's Roeg Sutherland.
A slate of 12 feature-length projects, mainly at the treatment stage, were presented over the course of an evening in Bordeaux's historic Le Français cinema theatre, using a combination of mood reels and text readings by professional actors.
Highlights included sci-fi thriller Fuxion, in which a female detective goes undercover on the dark web to investigate a series of deaths connected to an erotic virtual reality dating site; psychopath drama Fragile, about a fusional mother and daughter hiding a dark secret; The Kingdom, in which a teenager's real-world fate is inextricably tied up with that of her medieval warrior avatar in an online game, and eco-warrior, survivalist drama To The Trees.
This year's selection also included a handful of comedy titles including Open Book, in which a brother and sister on the edge of society plot an elaborate literary fraud, and identity swap tale Dead Man's Shoes.
Open Book is written by French detective thriller writer Hervé Commère while rising director Carlos Abascal Peiro, whose short film Jupiter! was a festival hit, is attached to direct.
Dead Man's Shoes is set to star Jean-Pascal Zadi as an Uber driver who is transformed into a flamboyant gangster figure when he slips on the flashy shoes of a man who dies in the back of his car.
It marks a feature debut for writer and director Yohann Gloaguen, who previously took writing credits on Cannes Midnight screening title Bloody Oranges and worked as an assistant director to David Lynch and Wong Kar Wai.
Zadi's star has risen in France over the last 18 months on the back of his film Simply Black, for which he won the César for best promising actor in 2021. Other acting talents also attached to the project include Makita Samba and Steve Tientcheu.
One year on
The Bordeaux event coincided with the first anniversary of Wild West's creation in 2021.
The company was born out of WBI and Capricci's collaboration around the latter's So Film Genre screenwriting residency, which Lounas spearheaded five years ago in response to a dearth of French-language genre cinema.
Feature films to emerge from the residency prior to the creation of Wild West included Just Philippot's The Swarm, which was feted with the special 2020 label of Cannes Critics' Week and then acquired by Netflix outside of France and Spain.
Under the Wild West strategy, the aim is to develop around 12 French genre feature films and series projects a year drawn from workshops run by the residency. The company is headed by Lounas and Maraval with support from production manager Manon Lhoumeau.
"Genre cinema was absent from French cinema. There was some arthouse cinema dressed up as genre but no real genre cinema scene," commented Maraval.
He suggested that the last time there was a big genre push in the country was in the early 2000s following the box office success of Christophe Gans' cult period action-horror Brotherhood Of The Wolf in 2001.
"It was atypical for French cinema and a huge box office hit. Three or four big genre titles followed in its wake but failed and the wave petered out. Then came [Luc] Besson who wasn't exactly making genre, but a type of action and thriller cinema aimed at younger audiences nonetheless," said Maraval.
"This public has disappeared from our cinemas because the offer is no longer there," he continued. "We want to get younger generations of spectators back into cinemas to see French genre, to prove to them it can be done."
Beyond theatrical, he and Lounas are keen to work with a variety of other platforms to exploit the ideas and concepts coming out of the initiative. In an example of this, the company announced a new partnership during the Bordeaux event with French radio network France Culture.
Under the collaboration, two of this year's projects will be adapted as fiction podcasts for France Culture as a precursor to their production as feature films. The first two projects selected for the initiative are Fuxion and Open Book.
In the meantime, two projects from Wild West's inaugural 2021 project announcement are now gearing up for production.
Action thriller Vincent Doit Mourir, which was written by Mathieu Naert and now has Stéphan Castang attached as a director, is scheduled to start shooting this September. It is produced by Wild West and Capricci with the support of Arte, Canal+ and Ciné+.
Rising actor Karim Leklou stars as a young Parisian photographer whose life changes overnight when suddenly everybody he approaches goes mad and tries to kill him. Leklou, who was at Cannes this year in Critics' Week title Sons Of Ramses, also attended the Bordeaux event. French actress Vimala Pons is also attached.
Mael le Mee's Incarnation - about a girl suffering from a rare disease that delays puberty - is also set to shoot this autumn. It is produced by Wild West and Bordeaux-based Bobi Lux, which previously took credits on Albert Serra's The Death of Louis XIV. Canal+ and Cine+ are also on board. India Hair is attached to star.
Wild West is also due to shoot a short version of the 2021 project Les Dessins d'Alexandre by Clément Rière about a young boy whose drawings become reality.
"We see it as a way to test the concept and the special effects," commented Maraval.
The 2022 selection in full:
Lineage
Writers: Clément Rière, Axel Cadieux
A pharmaceutical dynasty offers experimental treatment to a young writer struck down by a rare disease, but she soon discovers a sinister motive.
Fuxion
Writer: Claire Griois
A female detective goes undercover in the dark web to investigate a series of mysterious deaths linked to a virtual reality dating site.
Dead Man's Shoes
Writer/Dir: Yohann Gloaguen
An uber driver is transformed into a flamboyant gangster figure when he tries on the flashy shoes of a man who dies in the back of his car.
The Kingdom
Writer: Willy Orr
A young girl's real-world reality becomes inextricably tied up with the fate of her male warrior avatar in an online game set in a Medieval fantasy world
Fragile
Writer: Diane Lecerf
An art student is convinced a new classmate is the victim of fabricated or induced illness and decides to rescue her from her mother but the truth is far more deadly.
Love, Geeks & Canine Teeth
Writer: Chloé Delaume
Dirs: Pierre Emmanuel Urcun, Jean-Baptiste Saurel
A vampire sets her sights on a menage-à-trois with a geeky gamer couple she meets via a virtual reality fantasy game.
To The Trees
Writer: Dominique Baumard
Dir: Joséphine Darcy Hopkins
An insurance manager in her 50s finds an unexpected calling as an eco-warrior, adopting survivalist techniques in the wild as she dodges the authorities.
Latex
Writer: Axel Cadieux
Three women are brought together by an investigation into a series of gruesome murders within the amateur porn world.
Zeus
Writer: Sebastien Gendron
Two youngsters get on the wrong side of a violent crime boss when they steal a suitcase that belongs to him.
Prophecy
Writer/dir: Mathieu Megemont
A journalist for a local newspaper finds himself in the clutches of a deadly sect when a routine assignment in the countryside takes a strange turn.
Endorphins
Writer: Rémi Mardini
A promising young basketball player embarks on a secret relationship with a glamourous university tutor with a secret track record in suicide pacts.
Open Book
Writer: Hervé Commère
Dirs: Carlos Avascal Peiro
A brother and sister hit the jackpot when they inherit the estate of a celebrated writer but then discover the copyright is about to expire. They cook up a plan to create an unseen work in his name.