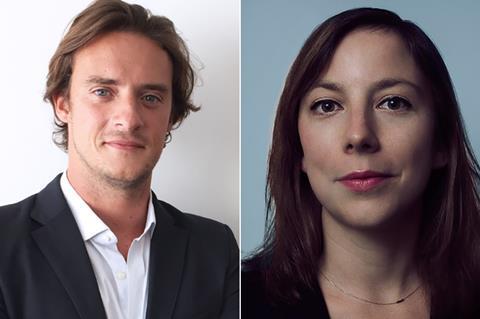 ADEF, the Paris-based association which represents 95% of the French sales companies attending the EFM this week, is ringing in a new era, with the appointment of a new executive board led by co-presidents Alexis Cassanet and Bérénice Vincent.
"We've appointed a board that is representative of the entire French film export scene, so both the big groups and the independents," said Cassanet, who is co-head of international sales at Gaumont.
"I represent one of the big groups, Gaumont, while Bérénice comes from the world of independents as a co-founder of Totem Films. We've also achieved gender parity too."
Other new board members include sales agents Dimitri Stephanides (WTFilms), Alya Belgaroui (Wild Bunch), Ola Byszuk (mk2 films), Charlotte Boucon (SND, Groupe M6), Alexandre Moreau (Memento Films International), Frédéric Corvez (Urban Distribution International) and Eric Lagesse at (Pyramide).
The shake-up follows the departure of Daniela Elstner to take over as managing director of French cinema export body Unifrance.
"Daniela did an excellent job and we're honoured to now be carrying the torch," said Cassanet.
One of Cassanet and Vincent's ambitions as co-presidents is to safeguard and expand National Cinema Centre-backed automatic support scheme for sales agents, which was spearheaded by Elstner.
Launched in 2016, it has been recently renewed for another three-year term. With an annual budget of €6m, it helps French sales companies fund minimum guarantees and costs related to marketing a film internationally.
"Sales was the only part of the film-making chain that didn't get support in the past. This scheme is recognition of what we do. We'd like to make it a permanent one," said Vincent.
"France is home to the second biggest film sales force in the world after the US, and not just for French cinema but international titles too," said Cassanet.
He added that 30% of 92 films successfully submitted to the Best International Film category at the Oscars were sold by French sales companies.