Egyptian show Tough Luck will feature an all-star Arab cast.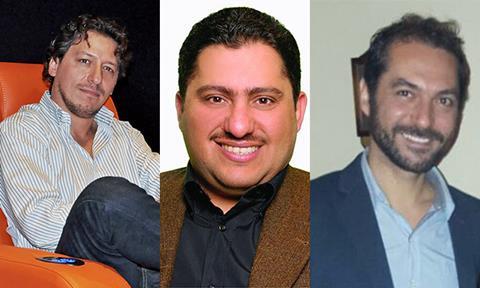 Middle East and north Africa distributor Front Row Filmed Entertainment is in production on its first regional television venture in the form of Tough Luck, an Egyptian sitcom lead by Sharif Ramzi and Mai Selim.
The company is financing and producing the Arabic-language project with the Kuwait National Cinema Company and Shadows Communications, the production arm of producer Ehab Sergany [pictured right] and actor Ahmad Helmy.
Helmy will have guest appearances in the show, joining a cast that is also due to include Ahmad Sakka, Mona Zaki, Mai Kassab, Ahmad Fahmi, Shiko, Nicole Saba, Hisham Majed, Baoiomy Fouad, Hassan Al Radad and others.
Director and writer is Akram Fareed, known for hit 2007 romance Omar & Salma.
Singers Mohammed Fouad, Bousi, Hisham Abbas, Mustapha Qamar and belly-dancer Fifi Abdo will also feature.
The show depicts a comedy of errors befalling residents in a dilapidated tenement of Cairo's fifth district, as a series of handymen, labourers and nannies attempt to fix the crumbling building to no avail.
Filming is now underway in Egyptian capital Cairo on the series, which will consist of two seasons of 30x30-minute episodes.
The first season is expected to be launched in May of this year to coincide with the month of Ramadan when viewership in the region surges.
Front Row is currently in talks with TV partners and SVoD platforms over broadcast rights to the show.
Front Row's managing partner Gianluca Chakra [pictured left] commented: "We are currently negotiating with multiple parties and looking to break the archaic mold of traditional sales and distribution through a game-changing scenario that could eventually bring in a more competitive landscape in the region."
KNCC general manager Hisham Alghanim [pictured middle] added: "It's the first time an Egyptian series comprises of over 40 of the biggest names in the Arab world positioning this as essential viewing especially at a time where family viewing is at its pinnacle.
The main reason we chose to be involved in the project is to control the rights and try to position the show in a way that will make viewers change the way TV is consumed in the region while still, somewhat, respecting the industry standards."
Front Row previously signed an output deal for feature film content with Middle East pay TV network beIN Media.