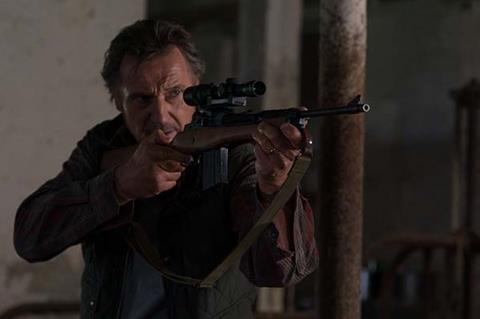 Dubai-based distributor Front Row Filmed Entertainment and Riyadh-based exhibition chain Muvi Cinema are joining forces on the creation of a Saudi distribution company called Front Row Arabia.
The joint venture will focus on theatrical distribution in Saudi Arabia of Western, Arabic-language and Japanese anime content.
It kicks off operations with the release of action thriller The Marksman, starring Liam Neeson as an Arizona rancher who ends up defending a young Mexican boy from the cartel, on January 21.
The announcement of their joint venture comes amid a period of rapid expansion for Saudi Arabia's exhibition and distribution sectors in the wake of the lifting of the country's 30-year cinema ban at the end of 2017.
In spite of the Covid-19 pandemic and local lockdowns in 2020, the territory surpassed the box office of its Gulf neighbour the UAE last year.
Muvi Cinemas is one of the first home-grown exhibition chains to take off in Saudi Arabia. It operates in 10 locations in six cities with a total of 103 screens and has ambitious plans to expand its capacity to more than 610 screens by 2025.
Its theatres are equipped with a variety of cutting-edge cinema formats including Xperience, Dolby, Onyx and ScreenX and also feature specialist luxury and children and family-friendly venues.
The UAE's Front Row acquires over 100 titles a year for the Middle East and North Africa, 45 of which are distributed theatrically in the region.
Just before the lockdown, in collaboration with partner company Kuwait National Cinema Company (KNCC), it released the Arabic-language blockbuster The Money (El Folos), which stands as one of the highest-grossing Arabic films of all time in Saudi Arabia and the Gulf as a whole.
The new joint venture replicates Front Row's successful partnership KNCC which currently controls 86% of the Kuwait theatrical market share.
"We have been monitoring Front Row's activity for quite a while and their diversity, innovative business model and future plans are very much aligned with our vision which includes distribution of Hollywood, local language content and beyond," said Muvi Cinemas CEO Sultain Alhokair.
The deal was negotiated between F, president Hisham AlGhanim and COO Nicolas Torloting and Muvi Cinemas CEO Alhokair, COO Adon Quinn and development director Majed Bahaffi.
"Saudi Arabia is the growing market of the region and we are happy to add another valuable piece to our distribution network through this joint venture with Muvi Cinemas," said Front Row CEO Gianluca Chakra. "This will offer our current and future partners the most efficient and complete all-rights distribution set up in the Middle East."
Further upcoming Front Row releases include Sia's Music, Gintama: The Final, The Father, Flag Day, The Card Counter, Seal Team, Ari Folman's Where Is Anne Frank? and Studio Ghibli's Earwig And The Witch.