New projects from Larry Fessenden, RKSS and John McNaughton among line-up at sixth edition, taking place July 23-26 in Montreal.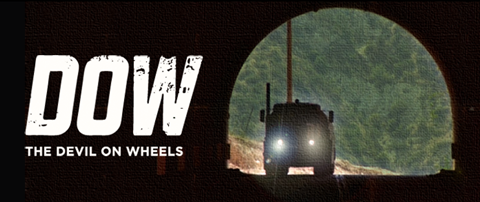 Having announced a first wave during Cannes, Frontières International Co-Production Market has unveiled the full line-up for its upcoming sixth edition.
Among the additional projects announced are The Designer from Glass Eye Pix (Larry Fessenden, Peter Phok, Graham Reznick), Todd E. Freeman's The Beautiful, Enric Folch's Duel documentary The Devil on Wheels and Huan Vu's H.P. Lovecraft's adaptation The Dreamlands.
They join the already announced projects from the likes of John McNaughton (Carny Kill), Turbo Kid film-makers RKSS (Elora) and Srdjan Spasojevic (Whereout).
Frontières will run July 23-26 at the Fantasia International Film Festival in Montreal, following its second European edition at the Brussels International Fantastic Film Festival (BIFFF) in April.
The expanded project line-up for the upcoming edition will see more projects participating in live pitch sessions.
Established in 2012 at Fantasia, Frontières has developed into a biannual transatlantic circuit between Montreal and Brussels. It is a collaborative initiative between Fantasia, BIFFF and Vision-in-Motion.
Frontières is made possible with the support of Creative Europe, SODEC, Telefilm Canada, and Concordia University.
Full line-up
3 1/2 (USA - India)
Director: Sooni Taraporevala
Writer: Sooni Taraporevala
Producer: Michael Roiff (Night & Day Pictures)
Executive Producer: Ritesh Batra
12 Frames / Second (Québec)
Director/Writer: Martin Laroche
Producer: Yanick Létourneau (Peripheria Productions)
The Beautiful (USA)
Director/Writer: Todd E. Freeman
Producers: Jason Freeman, Todd E. Freeman, Lara Cuddy (Polluted Pictures)
Butcher Shop (USA)
Directors/Writers: Cezil Reed & Lydelle Jackson
Producer: Michelle Miller (BAPart Films)
Carny Kill (USA)
Director: John McNaughton
Writer: John McNaughton & Ted Mann (Screenplay) / Robert Edmond Alter (Novel)
Producer: Steven A. Jones
Country House (Spain)
Director/Writer: Fernando Ronchese
Producer: Angel Sala (Level 5 Consulting SL / La Fiera Group Production SL)
The Designer (USA)
Director/Writer: Graham Reznick
Producers: Larry Fessenden, Peter Phok, Graham Reznick (Glass Eye Pix)
The Devil on Wheels (Spain / UK)
Director/Writer: Enric Folch
Producers: Enric Folch, Roger Allen, Orio Marcos (The Devil on Wheels Productions LTD / SETMÀGIC Audiovisual)
The Dreamlands (Germany)
Director/Writer: Huan Vu
Producers: Jan Roth, Huan Vu (Sphärentor UG)
El Gigante (Canada)
Director: Gigi Saul Guerrero
Writers: Shane McKenzie / Co-Written by Luke Bramley, Gigi Saul Guerrero
Producer: Raynor Shima (LuchaGore Productions)
Elora (Québec)
Directors: Anouk Whissell, François Simard & Yoann-Karl Whissell (RKSS FILMS)
Writers: Anouk Whissell, François Simard & Yoann-Karl Whissell
Producer: Anne-Marie Gélinas (EMAfilms Inc.)
The Existence of Liberty White (UK)
Director: Nick Parish
Writer: Gwilym Davies
Producer: Zack Winfield (Milkwood Film Productions)
Fray (Finland)
Director: Mikko Lopponen
Writers: Mikko Lopponen, Ramin Sohrab, Kevin Frazier
Producers: Ramin Sohrab, Sonja Farling, Kevin Frazier (Sonram Productions)
League of Monster Slayers (Canada)
Writers: Leonard Farlinger & Aaron Woodley
Producers: Jennifer Jonas & Shannon Fewster (New Real Films)
Kill Mode (Netherlands)
Director: Thijs Meuwese
Co-Director: Colinda Bongers
Writer: Thijs Meuwese
Producers: Colinda Bongers & Thijs Meuwese
'Lude Behavior (Québec)
Director: Renaud Gauthier
Writer: Renaud Gauthier & Mary Elizabeth Hickey
Producer: Mathieu Gauthier (GoBROS Pictures)
Never Tear Us Apart (Québec)
Director / Writer: Sid Zanforlin
Producers: Patricia Gomez Zlatar, Chris Bavota (Head on the Door Productions)
Pill #1618 (Lithuania / Italy)
Director: Domante Urmonaite
Writers: Domante Urmonaite / Story by Martynas Mendelis, Domante Urmonaite
Producers: Stasys Baltakis (Baltic Productions / Film Jam), Chiara Barbo (Pilgrim Film)
Singer (Canada)
Director: Seth Smith
Writer: Darcy Spidle, Seth Smith
Producer: Rob Cotterill (Yer Dead Productions)
Syncretize (USA / Canada / Haiti)
Director: Matt Swinsky
Writer: Bryan Strickland
Producers: Katarina Gligorijevic, Tim Reis, Matt Swinsky (Ultra 8 Pictures & Vrille Film)
Executive Producer: Colin Geddes (Ultra 8 Pictures)
Whereout (Serbia)
Director: Srdjan Spasojevic
Writers: Aleksandar Radivojevic, Srdjan Spasojevic