eOne's The DUFF is the week's highest new entry with $1.3m (£891,248) from its 392 sites, including previews.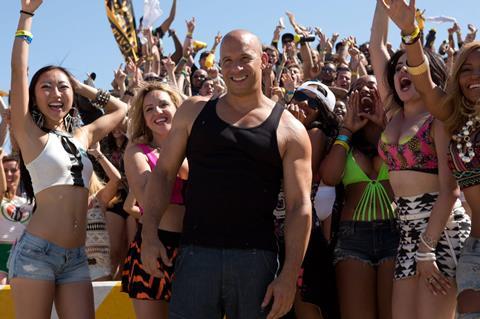 UNIVERSAL
Fast & Furious 7 is already the highest grossing entry in the franchise after just ten days in play at the UK box office.
Universal's latest instalment retained top spot with a second weekend of $7.9m (£5.4m), meaning it has now raced to $38.3m (£26.24m) and surpassed Fast & Furious 6's $36.9m (£25.3m) result.
Stablemate Fifty Shades of Grey is currently the highest grossing 2015 release with just under $51.1m (£35m), a target that Fast & Furious 7 is in a strong position to challenge.
It may have to do so before Avengers: Age of Ultron lands in a couple of weeks, though.
DISNEY
Falling 40% in its third weekend, Disney's Cinderella added $2.6m (£1.78m) as it crossed the £15m mark to stand at $22.2m (£15.2m). It'll shortly surpass Oz the Great and Powerful's $22.5m (£15.4m) UK result.
FOX
Remaining in third was Fox's Home as it recorded just a 31% drop on its way to a fourth weekend of $2.3m (£1.5m). The animation is now up to a strong $26.9m (£18.4m) and will likely hit £20m by the end of next weekend at the latest.
Also for Fox, The Second Best Exotic Marigold Hotel has grossed $22.3m (£15.3m) after seven weeks in play.
EONE
Thanks to four days of previews, eOne's The DUFF is the week's highest new entry with $1.3m (£891,248) from its 392 sites.
Its Fri-Sun tally of $712,000 (£487,928) would have seen it chart behind John Wick and Woman in Gold in terms of new openers.
Also for eOne, The Divergent Series: Insurgent added $339,000 (£232,512) for $11m (£7.5m), while The Water Diviner posted a second weekend of $202,000 (£138,088) for $1.5m (£1.03m) after ten days in play.
Lost River debuted with $79,000 (£54,264) from its 22 sites, with a hefty chunk of its opening coming from just under $73,000 (£50,000) in previews.
PARAMOUNT
Now in its third weekend of release, Paramount's The SpongeBob Movie: Sponge Out of Water surfed to an extra $949,000 (£650,000) for $9.5m (£6.5m) to date. Before the weekend, the sequel had surpassed its predecessor's $8.2m (£5.6m) UK result.
Also for Paramount, Hot Tub Time Machine 2 flopped with just $132,000 (£90,200) from its 198 sites on its UK bow. That's around a tenth of the first film's $1.3m (£904,959) opening result, albeit from more sites at 396.
WARNER BROS
Well-received action thriller John Wick posted a solid, if uninspiring, UK opening of $741,000 (£508,000) from its 390 sites. Warner Bros will be hoping it can avoid the typical fast-burn nature of genre films at the box office.
Also for Warner Bros, Get Hard took a further $549,000 (£376,000) for $6.2m (£4.27m) after three weeks in play.
ENTERTAINMENT FILM DISTRIBUTORS
Woman in Gold recorded a UK bow of $722,000 (£494,336) from its 225 sites through Entertainment Film Distributors.
That's down on the $1.1m (£749,819) debut of director Simon Curtis' My Week With Marilyn, although that did receive a wider release at 397 sites.
SONY
Paul Blart: Mall Cop 2 launched with $700,000 (£480,000) from its 393 sites through Sony. That's significantly down on its predecessor's $1.9m (£1.3m) bow from 375 sites on its way to $7.4m (£5.1m).
ICON FILM DISTRIBUTION
Falling over 50% in its second weekend, Icon Film Distribution's While We're Young took $251,000 (£171,615) for $1.3m (£874,696) to date.
As expected, it has now surpassed Frances Ha as Noah Baumbach's best-ever UK performer.
MUNRO FILMS
Cobain: Montage of Heck recorded the biggest three-day opening for a documentary this year at the UK box office.
Munro Films' release grossed a non-final $148,000 (£101,693) from its 65 sites, around a half of which programmed the critically acclaimed documentary on all three days.
It rolls out across the UK and Ireland over the next couple of weeks.
CURZON FILM WORLD
Cannes 2014 winner Force Majeure got off to a strong start at the UK box office with a non-final $128,000 (£87,398) from its 33 sites through Curzon Film World.
Also for Curzon Film World, Wild Tales has taken $778,000 (£531,251) after three weeks in play.
BFI
Blade Runner: The Final Cut has surpassed 2001 as the BFI's top grossing release of all time.
The re-release added an additional $85,000 (£58,096) from its 71 sites to stand at $726,000 (£497,385), with four sites still to report.
ARROW FILMS
Released in 123 sites on mostly split shows through Arrow Films, Good Kill posted a UK debut of just over $65,000 (£44,000), including previews from Dublin Savoy shows.
SODA PICTURES
Playing in five sites with reduced performances, Soda Pictures' Jauja grossed $12,400 (£8,511), including $8,100 (£5,550) in previews, on its UK debut.
DOGWOOF
Dior and I is now Dogwoof's second highest grossing release of all time with $288,000 (£196,593) after three weeks in play.
UPCOMING RELEASES
This week sees a saturation release for Lionsgate's A Little Chaos, while eOne's Child 44 and Metrodome's The Town That Dreaded Sundown both receive wide releases.
Icon Film Distribution's The Last Five Years, Warner Bros' The Salvation and Picturehouse's Dark Horse: The Incredible True Story of Dream Alliance are among the films receiving limited releases.