Mexico City-set dark comedy Chicuarotes revolves around teenagers living on the edge of a tourist lake.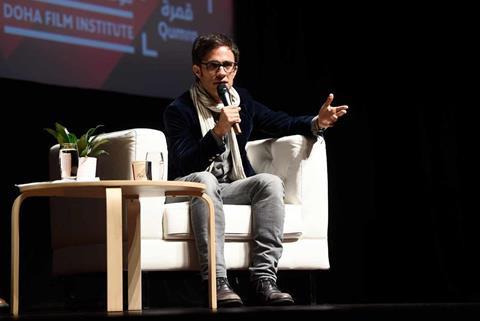 Mexican actor, director and producer Gael Garcia Bernal is hoping to shoot his second feature Chicuarotes early next year about a group of teenagers growing up by Xochimilco Lake in Mexico City.
Speaking to ScreenDaily, Bernal said: "The film will follow a group of kids - around 14, 15 years-old - who live by the lake. They're economically poor but not miserable or unhappy, basically living in paradise.
"The narrative of the film follows their dreams of moving up economically and socially. They want to stop working and make lots of money. I can't tell you now how they attempt to do this but it's a comedy - a very dark comedy."
Bernal spoke to Screen on the fringes of the Doha Film Institute's inaugural Qumra meeting, aimed at nurturing projects by filmmakers in Qatar, across the Middle East and beyond.
Canana Films - the Mexico City production house Bernal co-owns with Diego Luna and producer Pablo Cruz - will produce the upcoming film, which is in the early stages of development and funding.
"Chicuarotes is the nickname given to people living in the small town where the teenagers are from, a bit like people from Liverpool are sometimes referred to as scousers," added Bernal. "I'll shoot it in 2016."
It will be the second feature-length film for Bernal after his 2007 feature Déficit, which centred on the mixing of two social classes at a family gathering. Since then, Bernal has shot five shorts in between appearing in some 20 films.
Qumra Master
Bernal is attending Qumra as one of the programme's "masters" alongside Timbuktu director Abderrahmane Sissako, Romanian filmmaker Cristian Mungiu and Oscar-winning Bosnian director Danis Tanović.
Iranian actress Leila Hatami, best known for her role in A Seperation, was also scheduled to attend but had to pull out at the last minute due to unforeseen circumstances.
The six-day event is an intimate affair combining master-classes, networking opportunities and hands-on support from top names in the international film industry including including producers Jason Kliot, Cedomir Kolar, sales agent Vincent Maraval and director Haifaa Al Mansour.
Masterclass
At a masterclass on Monday, Bernal talked about his acting career, charting his trajectory from growing up on the fringes of Mexico's experimental theatre scene as the child of actors, to his double break in Alejandro González Iñárritu's Amores Perros and Alfonso Cuarón's Y Tu Mamá También, to his decision to keep Mexico as his base rather than pursuing a Hollywood career.
He recounted how Iñárritu, a celebrity radio DJ at the time, called him at his student digs in London, where he was studying at the Central School of Speech and Drama at the end of the 90s, to offer him the part of Octavio in Amores Perros.
"I said, 'I'll do it, I'll do it'. He said 'Read the script first, take your time'," recalled Bernal. "I got the script in the mail… I was like, 'yeah, it's good'. It was the first script I'd ever read. The second script I read was Y Tu Mamá También. I was spoiled from the start."
Amores Perros would go on to premiere in Cannes Critics' Week in 2000, where it won the top prize, and was also Oscar nominated in the foreign language category.
"I'd already said 'no' to three other scripts because I was at school and because they weren't incredible or because something just wasn't there. It was destiny. It taught me a lesson early on that it's important to know when to say 'no'. If I hadn't said 'no' to the other scripts I wouldn't have got Amores Perros."
He revealed how he shot Amores Perros during his Easter holidays, faking a mysterious "tropical illness" to cover-up for the fact that he returned to school a week late.
"The bad thing was that I got loads of Get Well cards from my friends in London. At the end of the film I lose my hair, when I got back everyone was like 'oh my God what happened?'," said Bernal.
Cinemathèque education
The actor and filmmaker also recalled how he had spent his teen years hanging out in the local cinemathèque, working his way through the modern cinema classics.
"I'd skip school and watch whatever was there. I felt like I discovered first-hand Theo Angelopoulos, Wim Wenders, Akira Kurosawa, the Nouvelle Vague, Fassbinder. I'd walk into the cinema not knowing what I was going to watch… it was before the internet, there was nowhere else to discover these films… don't you miss those times?"
Canana Films and Ambulante
Bernal also touched on his producing and directing activities as well as the traveling documentary festival Ambulante, which he sponsors with Canana partner Luna.
"It's the best thing we've ever done," Bernal said of the festival, which visits 16 to 18 cities in Mexico over a two to three month period.
"It's a fascinating and incredible project. The most helpful thing about it is that documentaries have a real social function. It eliminates the single discourse and opens up discussion. Our motto is to discover, to share, to transform. It has become a fulcrum of social change in Mexico and I think it's one of the most original festivals in the world," he added.
Qumra Mentor
As part of his 'master' role at Qumra, Bernal has also been mentoring four projects.
Three of them are documentaries: Lebanese Ali Hammoud's Asphalt, about two truck-drivers who regularly cross the Middle East delivering goods; Lebanese Reem Saleh's What Comes Around, capturing one of Cairo's poorest neighborhoods, and Belgian Moroccan Yasmine Kassari's Salaam Plenty, about Afghan emigration to Australia under British colonial rule in the 19th century and its legacy today.
He was also advising Thai director Anoucha Suwichakornpong's feature By The Time It Gets Dark, about several characters linked by the memories of a "forgotten" student massacre in Thailand in 1976.
"I love the size and the dynamic of this event. You get to meet people. The masterclasses run two hours – there's time to articulate a few things," said the actor and filmmaker.
Talking about the projects he was mentoring, Bernal said: "What makes them similar is what makes them so different at the same time. They're all very personal points of views. You can't put a veil on it, culturally or regionally."
"It might be hard to set up co-production deals with Latin America — it's hard to see the link but one thing that hasn't been exploited is the connection between countries such as Lebanon or Syria and Latin America," he continued. "There are huge populations of Lebanese and Syrian immigrants in Mexico, Argentina, Colombia and Brazil – it's an angle which has not really been explored."