EXCLUSIVE: Legal thriller starring Masaharu Fukuyama due to hit screens in Japan in September.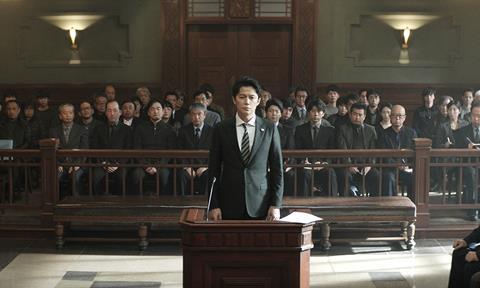 Japan's Gaga Corporation and Wild Bunch are re-teaming to jointly sell Japanese director Hirokazu Kore-eda's upcoming legal thriller The Third Murder.
Popular Japanese singer and actor Masaharu Fukuyama reunites with Kore-eda to play a lawyer who takes on a complicated murder case that will shake his very belief in the law.
Fukuyama starred in Kore-eda's 2013 Cannes Jury Prize winner Like Father, Like Son, playing a successful businessman faced with a tough decision on discovering the child he brought up as his own was swapped with his biological son at birth.
Gaga will represent Asian territories and Wild Bunch is handling the rest of the world.
The new deal extends a collaboration begun on Kore-eda's 2011 film I Wish and continued on his subsequent films Like Father, Like Son, Our Little Sister and After The Storm.
Toho Co., Ltd and Gaga will jointly release the film in Japan on Sept. 9, 2017.
According to a synopsis released by the two sales partners, Fukuyama plays leading attorney Shigemori, who takes on the defence of murder-robbery suspect Misumi, played by veteran actor Kôji Yakusho.
Shigemori's chances of winning the case are low. Misumi served jail time for another murder 30 years ago and he has freely proclaimed his guilt, even though he faces the death penalty if he is convicted.
As he digs deeper into the case, and listens to the statements of the victim's family and Misumi, the once confident Shigemori begins to doubt whether his client is the murderer after all.
Kore-eda directed, wrote and edited the picture which is produced by Kaoru Matsuzaki and Hijiri Taguchi. Mikiya Takimoto, who worked on Like Father, Like Son and Our Little Sister, is attached as cinematographer.
Yohei Taneda, whose credits include The Hateful Eight and Kill Bill: Volume I, did the production design and Italian composer Ludovico Einaudi wrote the score.