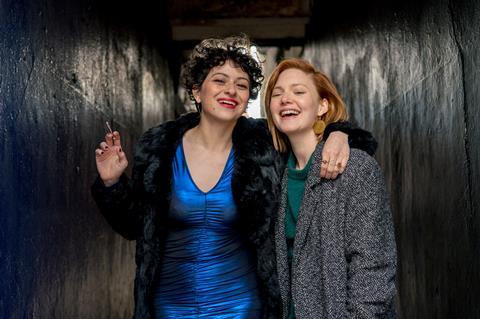 The full programme for the 31st Galway Film Fleadh has been unveiled, with Sophie Hyde's Animals and French actress Sandrine Dumas' directorial debut Sing Me Back Home among the latest additions to the programme.
Sing Me Back Home, about a young woman's relationship with her grandmother, will open the Fleadh on July 9.
Ivan Kavanagh's Never Grow Old, a dark western about an Irish undertaker on the American frontier, starring Emile Hirsch and John Cusack, will close the festival on July 14.
Of the 84 new local and international features, 35, or 40%, are directed by women. Including the repertory titles, this rises to 41 features out of a total of 95, or 43%.
The annual launchpad for Irish cinema sees five filmmakers shortlisted for the Fleadh's presitgious Bingham Ray New Talent award. They include directors Mike Ahern (Extra Ordinary), Enda Loughman (Extra Ordinary), actor Lola Petticrew (A Bump Along the Way), actor Lauren Canny (Darlin') and director Tristan Heanue (Silence).
The Fleadh's masterclass series will feature actor Will Forte, writer-director Allison Anders and writer-director Gurinder Chadha. Ros and John Hubbard will host a casting workshop in association with Spotlight. Producer, writer and director James Schamus (Brokeback Mountain, The Ice Storm) is the keynote speaker at the industry-focused The Fleadh Forum.
Irish films screening at the Fleadh include the Dublin-set Sundance hit Animals (pictured) adapted from the novel by Emma Jane Unsworth. Starring Holliday Grainger and Alia Shawkat, it charts the lives and friendship of two hedonistic young women as they approach their thirties. It is a UK-Ireland-Australian co-production.
Jihad Jane, Ciaran Cassidy's documentary about a bizarre, real-life case of two US women who became the face of the war on terror, will receive its world premiere in Galway. Further Irish features to screen include Ahern's comedy Extra Ordinary starring Maeve Higgins and Will Forte; Breaking Out, a documentary about acclaimed musician Fergus O'Farrell; Bruno, a drama about a homeless man in London; and the Irish-language thriller Finky.
The Fleadh also features a culinary cinema strand which will premiere Stage: The Culinary Internship. There is also a series of political documentaries including The Brink, a fly-on-the-wall portrait of Steve Bannon; the Richard Nixon documentary Watergate - Or: How We Learned To Stop An Out Of Control President; and Active Measures, which examines Russian interference in the US presidential election.
Music films to screen at Galway include Nick Broomfield's Marianne And Leonard: Words Of Love, about Leonard Cohen and his love for Marianne Ihlen, and Every Night's A Saturday Night, about Rolling Stones saxophone player Bobby Keys.
Screen Ireland will present the world premiere of new Irish short films at Galway, funded under the agency's Short Stories and Frameworks schemes. Something Doesn't Feel Right, Wrath, Break Us, and Twin are the live-action films premiering at this year's Fleadh, alongside Abe's Story and Lady Isabel & The Elf Knight, co-funded under RTÉ and Screen Ireland's Frameworks scheme for animation.