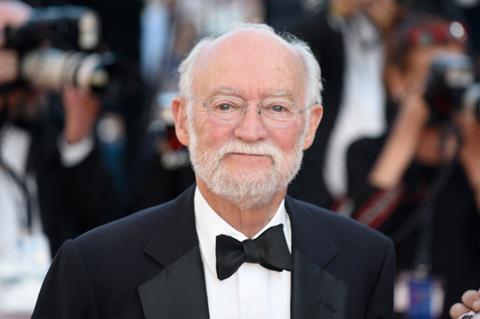 Nicolas Seydoux, the influential chairman of France's oldest cinema company Gaumont, has criticised Venice Film Festival artistic director Alberto Barbera for selecting Alfonso Cuarón's Netflix-backed feature Roma for Competition in its 75th edition earlier this year.
The family saga won Venice's prestigious Golden Lion award in September amid protests from distributors and exhibitors over the fact Netflix was planning only a limited awards-qualifying theatrical release for the film, favouring instead a digital launch on its platform.
Speaking at the Cairo International Film Festiva this week, where both he and Barbera gave masterclasses, Seydoux later told Screen that Roma did not deserve to be called a film.
"You have here the selector of the Venice Film Festival, they gave a prize to a film which is not going to be released in cinemas," Seydoux said. "It's not a film, no matter who is the director. The subject is that the definition of a film is that it has a first release in a cinema. Period."
Roma had originally been due to premiere at the Cannes Film Festival in May but Netflix withdrew the film after it was offered an Out of Competition slot, as it was not guaranteed a theatrical release in France.
Seydoux, who is an impassioned defender of the big-screen experience, was one of the French industry heavyweights leaning on Cannes Film Festival chief Thierry Frémaux to keep Netflix titles out of competition.
Frémaux, for his part, was in an almost impossible position. French chronology laws demand a 36-month window between a film's theatrical release and its availability on a streaming platform, and Netflix was never likely to delay a release on its platform for three years in return for a Cannes Competition slot.
The window is set to be reduced in upcoming reforms but it is unlikely to be by enough to persuade Netflix and other streaming platforms to play ball for future editions of Cannes.
Comments by Seydoux suggest Frémaux has a huge battle on his hands if wants the festival to start accepting films earmarked for a first release on streaming services such as Netflix, rather than a traditional theatrical launch.
"Either Cannes is a film festival and it doesn't show opuses not made for cinemas, but if you change [the rules] and do show those films, it's no longer a film festival, it's a TV festival or a platform festival," said Seydoux.
Seydoux said he believed that if the French film industry caved in and allowed for a significant reduction of the theatrical window, cinema theatres would cease to exist. He suggested cinema audiences would drop off in the same way that they had dwindled after television appeared in homes in the 1950s.
"I think people have forgotten that TV was a revolution and when you look at the audience in most countries, the audience was drastically reduced," he said.
"I think we are in the middle of another revolution with the platforms being more present in financing, producing and in the quality of television series. There is no certainty that cinemas are going to be there tomorrow, tomorrow being 20 years from now."
Italy has "no more cinema"
He added that he believed French cinema had continued to survive, as one of only two major film industries in the western world alongside that of the US, only through careful management.
"Look at Italy, which had the greatest western cinema after the US. There is no more cinema. There are obviously a few talents, but there is no cinema. Cinema is not an industrial activity, but an economic activity. And how do you measure it? You measure it, first, by the number of people who are in the cinemas, and secondly, by the number of films that are being produced."
For cinema to survive, Seydoux said it needed to be treated as a special entity.
"The difference between a cinema film and a TV film is not the quality of what has been shot. It's where the first release happens. You need a window reserved because if you release at the same time, people are going to stay at home or on their tablets, it's as simple as that."
He suggested a model for a future relationship between the French film industry and Netflix could be similar to the one struck with pay-TV giant Canal Plus, under which the channel invests in French cinema in return for enhanced, shorter broadcast windows.
"Canal Plus have been and are still partners of cinema. But will other platforms be our partners of tomorrow? That is the question," he said.
"Too many films are sequels"
Seydoux also expressed concern about the quality of cinema coming out of the US.
"The real issue, which is cultural and artistic, is that too many films are sequels. But to attract people out of their homes, or off their tablets you need imagination. If you make a series, you want heroes coming back on a regular basis. If the heroes in cinema are the same as you have seen at a given time, you are not going to be attracted by cinema. At Gaumont, we take great care about making and producing films which are different."
Seydoux rejected the suggestion his views on the need to protect the theatrical window in the face of rising competition from streaming platforms were incompatible with Gaumont's investment in TV shows such as Narcos, produced by its US-based subsidiary Gaumont Television for Netflix.
"We have produced Narcos and are in the fourth season and there is going to be a fifth one," he says. "We have other series with Netflix."
"I make a difference between working on a series and working on a film, which has to be released in theatres. Netflix is excellent but they are not producing cinema. Even if they are working with people who have been directors in cinema, for a film to be cinema it has to be released in theatres. That's my definition. It's not shared by everybody, but if you want a living cinema, there is no other choice."