The Star Wars and Flash Gordon actor passed away on Saturday aged 81.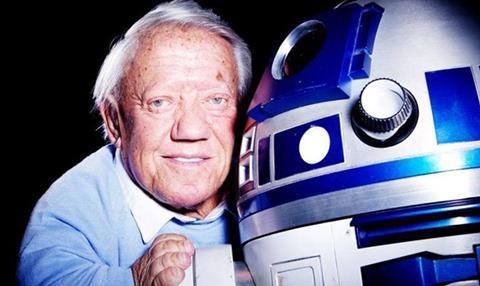 Leading figures from the Star Wars franchise including Mark Hamill, Ewan McGregor and George Lucas have paid tribute to actor Kenny Baker, who died on Saturday at the age of 81.
The British actor was best known for playing droid R2-D2 in the Star Wars series, including the original trilogy and the more recent prequels.
His career also included roles in The Elephant Man, Time Bandits and Flash Gordon.
Mark Hamill, who played Luke Skywalker in the original Star Wars films and also appeared in last year's The Force Awakens, led tributes, saying that Baker was "a lifelong loyal friend."
Director George Lucas, who helmed the original film A New Hope as well as the three prequels, released a statement adding that Baker was "truly the heart and soul of R2-D2".
Baker was set to reprise his part in Star Wars: The Force Awakens, but was too unwell and instead acted as a consultant. Jimmy Vee will take on the role for the as-of-yet untitled Episode VIII.
Anthony Daniels, who played droid companion C-3PO, took to Twitter to add that Baker would "always be remembered by so many fans."
Sad to hear of Kennys passing1 of the truly original cast, so famed for his iconic role as R2. Hell always be remembered by so many fans Anthony Daniels (@ADaniels3PO) August 14, 2016
Fellow actor Warwick Davis, who appeared in Return Of The Jedi, The Force Awakens and the upcoming spin-off Rogue One as a variety of characters, added his voice to the tributes on Twitter.
#RIP #KennyBaker Sad to say goodbye to a small man with a huge heart personality He paved the way for short actors of a generation. Warwick Davis (@WarwickADavis) August 13, 2016
Ewan McGregor, who played the young Obi-Wan Kenobi in the prequel trilogy, said that it was "lovely working with Kenny".