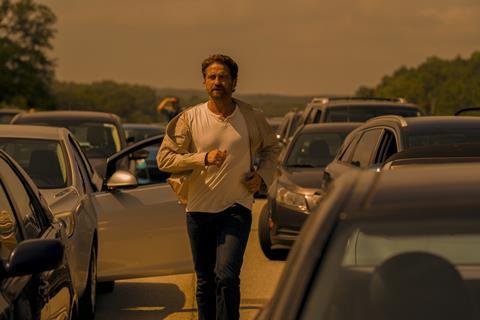 Gerard Butler, Morena Baccarin and director Ric Roman Waugh are reprising their roles on a sequel to independent hit Greenland for Anton, Thunder Road, and G-BASE.
Chris Sparling wrote the screenplay to Greenland: Migration, in which the Garrity family must leave the safety of the Greenland bunker after surviving a comet strike and embark on a journey across the decimated frozen wasteland of Europe to find a new home.
Producing are Thunder Road Pictures' Basil Iwanyk and Brendon Boyea, G-BASE's Butler and Alan Siegel, and Anton's Sébastien Raybaud and John Zois.
Anton is fully financing the film and controls all rights; CAA Media Finance jointly represents the US. Principal photography is scheduled for 2022.
Greenland debuted theatrically last summer under the lockdown via STX and opened at number one more than 26 countries including Germany, France, Italy, Spain, and Russia, grossing more than $52m. Following the theatrical roll-out the action film debuted on SVOD followed by an exclusive run in the US on HBO Max.
"Greenland spoke to our humanity in the middle of a global catastrophic event, highlighting what people are capable of doing to one another, both good and bad, when it's life or death," said Waugh. "The irony is we made the first film pre Covid and watched many situations come to reality. I'm looking forward to the next chapter of the Garritys post the first extinction event."
Baccarin recently completed two features scheduled for release in 2021: The Good House opposite Sigourney Weaver and Kevin Kline, and Last Looks, an action thriller opposite Charlie Hunnam and Mel Gibson. She was just announced as the lead of NBC's Untitled Nick Wootton/Jake Coburn pilot.
Waugh and Butler teamed on Angel Has Fallen and are lining up action thriller Kandahar. Waugh wrote and directed Shot Caller starring Nikolaj Coster-Waldau, Snitch with Dwayne Johnson, and Felon starring Val Kilmer.