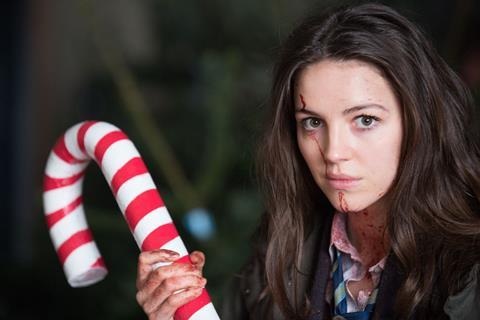 A Glasgow Film Festival panel yesterday (Feb 27) comprised of genre filmmakers discussed the potential for a more sustained horror industry in Scotland.
Sarah Daly, one of the founders of Hex Studios, a dedicated studio for the production and distribution of horror films based in Fife, celebrated the fact that "it's a very exciting time to be in the genre space because there is so much open mindedness to so many different kinds of storytelling".
"The industry has seen the returns that these films can have," Daly commented, pointing to recent horror breakouts such as Get Out, Hereditary and A Quiet Place. "It's a whole ecosystem with so many layers to it now."
Hex Studios is set up to produce roughly one horror film per year - it's debut feature, Automata, is premiering at Glasgow FrightFest this weekend. However, the company is looking to expand that output and is aiming to create a "movement" of genre filmmaking in Scotland.
"There is a lot of horror happening in Scotland but it's all very disparate at the moment, there's not really a unity," explained Daly.
She added that while the continued drive of inward investment across the entirety of the UK and Ireland was positive, Scotland must not neglect its local industry.
"There's an indigenous industry that's blossoming but we're still at the beginning of what's possible here with the talent and natural attributes that Scotland has. We're looking to really build something here and prevent the moving away from Scotland of talent," Daly continued.
One such talent is emerging director John McPhail, the director of Scottish musical-zombie film Anna And The Apocalypse, which premiered at Fantastic Fest in Texas in 2017. The film was boarded by London-based sales outfit AMP International and sold to Orion Pictures in the US and Vertigo in the UK.
McPhail said that, since making that film, he had been inundated with attention from the US, but had received little from the UK.
He pointed out that he had been signed by agent Paradigm in the US, and was now receiving regular directing offers from Lionsgate US as well as the opportunity to pitch for studio projects stateside, but was yet to secure a UK agent.
"I get nothing here, no attention. But I want to work here, I want to build an industry here. We have amazing locations, an amazing roster of talent, hardened crews who are out in the wind and rain all day, but the money's not here," he commented. "You have to create your own work and push forward with it. Nobody is going to take the risks if you don't take the risks. That's difficult."