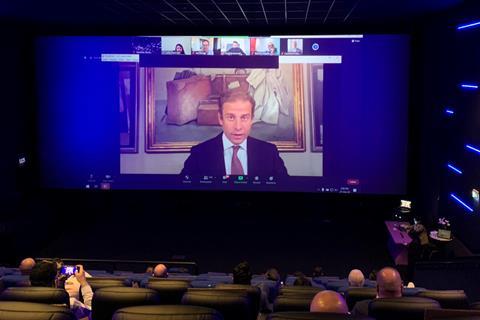 Research presented yesterday (October 27) at the third edition of the META Cinema Forum in Dubai suggested that global cinema box office will remain behind 2019 levels in both 2021 and 2022, reach near parity in 2023, and move ahead in 2024.
Pablo Carrera, principal research analyst for cinema intelligence at London-headquartered Omdia, presented his company's findings prepared exclusively for the META event, and to accompany a panel discussion "Effect of Covid-19 on the cinema industry, projections, plans and vision for recovery and beyond".
While global box office in 2019 reached $42.5bn, Omdia projects 2020 to end with just $12.4bn. Omdia forecasts $24.5bn for 2021 and $38.2bn for 2022, moving up to $41.4bn in 2023 and overtaking 2019 in 2024 with $44.1bn.
Echoing comments made in the panel discussion by Arturo Guillen, global managing director at Comscore Movies, Carrera drew contrasts between the recovery achieved at cinemas in four key markets: North America, China, UK and France.
August 2020 box office proved much more robust in both China and France, achieving more than 40% of an average month in 2019. In contrast, August box office in the UK was just 13% of an average month, and in North America 3.3%. Local product is key to recovery – a strong theme that emerged from the panel and from statistical presentations.
Carrera highlighted the box office success achieved in China on Valentine's Day this year, thanks to the strong performance of local hit The Eight Hundred. Valentine's Day box office was 523.5m Chinese yuan (CNY) ($77.8m) this year, which compares with CNY569.4m ($84.6m) in 2019, and CNY470.3m ($69.9m) in 2018. (The exact date varies in August each year because it is determined by the Chinese lunar calendar.)
Carrera presented research into consumer confidence about returning to the cinema in five markets (Australia, UK, US, Mexico and China) as well as willingness to pay a premium to watch a key title at home. The data showed strong variations, with China (71%) showing the most confidence about going to the cinema, followed by Mexico (49%). US, UK and Australia were all in the 37-39% range.
Leading into the release of Mulan, among US respondents who were interested in seeing the film, 48% were both unwilling to go to the cinema to watch it and unwilling to pay a premium to watch it in the home. In Mexico, that number falls to 29% and in China to just over 22%.
Local product is key
Like Carrera, Comscore's Guillen emphasised the importance of local product to recovery. "We are starting to see signals of recovery – success cases in Asia with huge local titles in South Korea, China and Japan," he said.
"China and Japan are already generating greater revenue than the same weeks this time last year prior to the pandemic," he added. In China, My People, My Homeland and animation Jiang Ziya: Legend Of Deification have grossed more than $600m between them in recent weeks. In Japan, Demon Slayer The Movie: Mugen Train has grossed more than $100m in 10 days.
France has seen 22 million admissions since the start of the pandemic, said Guillen. He added: "And yet not a single reported infection in a cinema."
In Guillen's home territory of Spain, local family comedy Father There Is Only One 2 has grossed $15m since its late-July release, nearly matching the $16m gross of the first film last year. The sequel is the highest-grossing film of 2020 in Spain, despite being released in the challenging conditions of the pandemic.
Guillen emphasised the importance of the film's status as a family film: "[It proves] that parents feel safe taking their kids to theatres."
European perspective
On the panel, Phil Clapp, chief executive of the UK Cinema Association and president of European cinemas trade body UNIC, offered several key messages.
"This is not a cinema pandemic, this is a global pandemic," he emphasised. The financial impact on cinemas required "a discussion with government of the type which cinema does not traditionally have".
He added: "Cinema is very much a self-standing business, it is not a business which ordinarily goes to government for funding. In some cases where government has a relationship with the cultural sector, it has required cinema to explain why the commercial sector also needs support, and how the two can't be divided.
"I have seen in some of the coverage of the current issue, a suggestion that, were the commercial sector to be massively damaged, then the cultural sector will step in and fill the gap. That is just not the reality of this. The commercial sector is an integral part of the cinema ecology, and much of the surrounding infrastructure would not exist if there was not a commercial sector."
Offering the UK as an example, where the commercial sector represents more than 80% of the market, he added, "The infrastructure in terms of technology and ticketing, all those other things, would not exist to service a sector which is 15% of its current size."
Clapp highlighted the point that "while the global day-and-date release strategy has been hugely effective in the past, these are not normal times".
"The international market represents 73% of global box office," he added. "And there's a very real danger that if the studios wait for the whole of the global cinema market to be reopened before they start releasing these [tentpole] films, they may find that in particular regions, there are very many fewer cinemas than they would have expected by the time that comes."
Acknowledging that "those territories with a strong domestic slate are managing the current challenges better than those that don't", Clapp pointed to his own territory, the UK, as an example of the latter.
"There needs to be a discussion about how we ensure that we have a more balanced film slate going forward," he said. "We never expected that the supply of US film content [could] be turned off, so we never planned for that happening. Now it has happened, we're looking around and trying to find other film content to play.
"Just in terms of good business planning going forward, there needs to be a discussion not just involving exhibitors, but of course producers and distributors about how we rebalance that."