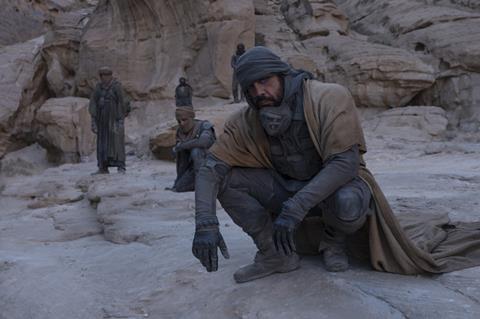 Worldwide box office October 22-24
| Rank | Film (distributor) | 3-day (World) | Cume (World) | 3-day (Int'l) | Cume (Int'l) | Territories |
| --- | --- | --- | --- | --- | --- | --- |
| 1. | Dune (Warner Bros) | $87.5m | $220.7m | $47.4m | $180.6m | 76 |
| 2. | Venom: Let There Be Carnage (Sony) | $47.4m | $352.4m | $38.3m | $179.6m | 54 |
| 3. | No Time To Die (Universal) | $44.9m | $525.6m | $33m | $405.6m | 73 |
| 4. | The Battle At Lake Changjin (various) | $31.9m | $814.4m | $31.9m | $814.4m | 1 |
| 5. | Halloween Kills (Universal) | $24.5m | $90.9m | $10m | $17.8m | 54 |
Credit: Comscore, all figures estimates
Fresh territory openings boost 'Dune'
Warner Bros and Legendary's Dune has returned to the top of the global box office chart, boosted by fresh openings in key markets such as North America, China, UK/Ireland and South Korea.
The film, which ranked eighth globally the previous weekend, grossed an estimated $40.1m on its North America debut, and $47.4m internationally – where it's now in 75 markets. Total for international is $180.6m after six weekends of play, and the global total is $220.7m.
Dune's top territory for international was China, debuting in second place behind long-running chart champ The Battle At Lake Changjin, with an estimated $22.2m. (See China box office report.)
Second strongest for international with Dune was UK/Ireland, with a $7.5m estimate including previews, knocking No Time To Die off the top spot. The number is below the $8.3m UK/Ireland debut of Venom: Let There Be Carnage the previous weekend.
Dune debuted with an estimated $3.4m in South Korea (narrowly failing to knock Venom: Let There Be Carnage off the top spot) and $2.0m in Mexico (landing at the top of the chart).
In cumulative totals, France leads the way among international markets with $27.4m after six weeks of play, ahead of China, Russia/CIS ($20.8m), Germany ($18.9m) and Spain ($8.8m). UK/Ireland should soon go shooting up this territory table, which China will soon lead.
The drop rate among holdover markets was 38% – considered decent for a studio tentpole. Takings at Imax screens are $29.1m globally – 13% of the total.
Warner Bros estimates that Dune is tracking level with Tenet at the same stage of its run in like-for-like international markets. Tenet grossed $305m for international. Dune is well ahead of Tenet's pace in North America, so Denis Villeneuve's film should exceed Tenet's final global tally of $364m. Dune has yet to open in Australia, where it's set to land on December 2.
'Venom: Let There Be Carnage' hits $350m
Sony's Venom: Let There Be Carnage topped the box office in 31 of its 53 current international markets, adding an estimated $38.3m for international and $9.1m in North America. Totals are $170.6m for international, $181.8m in North America and $352.4m worldwide.
Fresh openings in France (opening at the top spot with $5.2m including previews) and Germany ($4.3m including previews) gave the film a boost in the EMEA region, where the weekend total was an estimated $27.4m.
Cumulatively, top for the region is Russia, with $30.3m – the eighth biggest Hollywood film of all time.
For Latin America, Mexico leads the way with a $19.8m cumulative total, ahead of Brazil with $9.0m. For Asia, South Korea leads with $14.2m so far.
The film has yet to open in Australia (November 25) and Japan (December 3), while a release date for China, where the original Venom (2018) grossed $269.2m, has not been set.
The first Venom grossed $214m in North America, $643m for international and $856m worldwide.
'No Time To Die' is second biggest US studio title of pandemic era
Universal and MGM's No Time To Die broke the $500m barrier at the weekend, also becoming the second biggest US studio film of the pandemic era, behind only Fast & Furious 9 ($717m).
Weekend box office was an estimated $33.1m from 72 markets for international, and $11.9m for North Americe. Totals are $405.6m for international, $120.0m in North America and $525.7m globally.
Although UK/Ireland led the running on the film for the first three weeks of release, and has achieved the highest international total, successive strong holds in Germany saw the territory eclipse UK/Ireland for the latest weekend box office.
No Time To Die grossed an estimated $6.6m in Germany in its fourth weekend of play (taking the total to $56.0m), and an estimated $6.2m in UK/Ireland. Total for the latter broke through the $100m barrier and is now $106m.
No Time To Die faced fresh competition from Dune (and holdover competition from Venom: Let There Be Carnage) in UK/Ireland, whereas in Germany the situation was reversed, with Sony's Marvel film being the new release. Since the competitive situation is similar, it's reasonable to conclude that in UK/Ireland the highly anticipated Bond film has simply burnt through its audience quicker. Weekend drops in the territory have been 45% and an estimated 46% for the last two sessions. In Germany, weekend drops have been 22% and an estimated 28% for the last two sessions.
With $525.4m, No Time To Die has now reached 60% of Spectre's lifetime global total of $881m, and 48% of Skyfall's $1.11bn tally. The film releases in China this coming Friday (October 29) followed by Australia on November 11.
'Halloween Kills' pushed by international openings
For its first week of release, Universal's Halloween Kills proved fairly modest in its initial 20 international markets, but was buoyed by a strong opening in North America. For the second session, the score is much more even, thanks to fresh international territory openings.
David Gordon Green's horror sequel grossed an estimated $10.1m from 53 international markets and $14.5m in North America. Respective cumulative totals are $17.8m and $73.1m, combining for a $90.9m global tally.
Germany provided the top opening market for Halloween Kills, with an estimated $1.5m. France and Russia/CIS opened respectively with an estimated $845,000 and $753,000, followed by Spain with $668,000 and Italy with $666,000.
UK/Ireland led the way among international holdover markets, and also leads on cumulative totals, with $4.4m.
South Korea, Australia and Japan all open Halloween Kills this week. The film is chasing the following totals achieved by Green's 2018 franchise reboot Halloween: $159.3m in North America, $96.3m for international and $255.6m worldwide.
'Ron's Gone Wrong' adds $15m in second session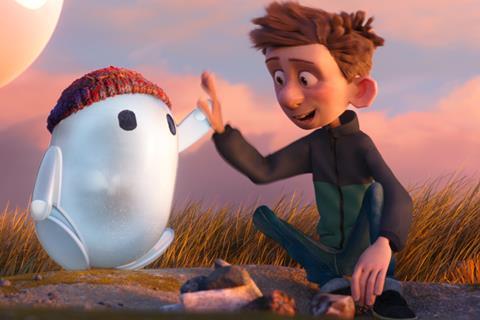 Disney animation Ron's Gone Wrong expanded at the weekend from five early markets to a total of 40 international territories, also landing in North America. Totals were an estimated $7.3m for international and also $7.3m in North America. Global total to date is $17.3m.
The first feature from new UK studio Locksmith Animation performed best in Russia/CIS with an estimated debut of $1.2m. For cumulative totals, UK/Ireland leads the way with an estimated $2.4m after two weekends of play.
This coming weekend, Ron's Gone Wrong lands in key markets Germany, Australia and South Korea as well as Austria, Sweden, New Zealand, Thailand, India and Taiwan. The China release has yet to be set.