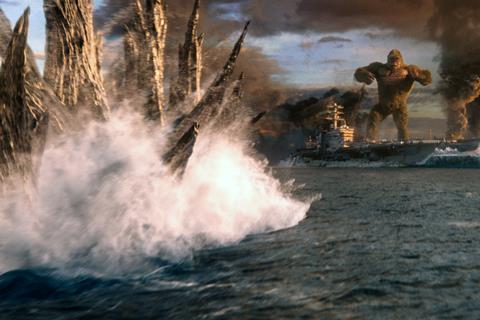 UPDATED: Warner Bros and Legendary are celebrating a strong $120m second global session for Godzilla Vs Kong, boosted by an estimated $48.5m five-day opening in North America, and strong holds in many international markets.
'Godzilla Vs Kong' stays strong in China, Mexico
The "monsterverse" mash-up delivered a confirmed $71.1m in international, a decline of 39%, taking the total after two weekends of play to $237.3m. The global total is $285.3m.
Godzilla Vs Kong's box office compares favourably with Godzilla (2014) and Godzilla: King Of The Monsters (2019) at the same stage of their respective runs – overall up 83% on Godzilla in like-for-like markets, and 35% up on the sequel. Those numbers are skewed by China, where Godzilla only grossed $77.6m in its lifetime, and where Godzilla Vs Kong has already reached $136.5m.
The tentpole ranked number one in all international markets at the weekend except China, where it was beaten by a local title (see below). After China, top markets were Mexico, Australia, Taiwan and Russia.
The film cracked $200m in international markets in just 12 days, which compares with 24 days for Tenet. Godzilla Vs Kong looks set to overtake Tenet ($363m worldwide) to become the biggest Hollywood film released in the pandemic era.
In international cumulative totals, China likewise leads the way ahead of Mexico ($12.9m), Australia ($10.9m), Taiwan ($9.6m) and Russia ($9.6m). Next come India ($8m), Thailand ($5.5m), South Korea ($4.8m), Spain ($4.7m), and Vietnam ($4.6m).
Imax screens generated an estimated $8.5m at the weekend, and the Imax total of $23.5m is just shy of 10% of the international total.
The film's notably strong holds were achieved in Colombia (-11%), Spain (-18%), Saudi Arabia (-23%), Mexico (-28%) and Taiwan (-29%).
Godzilla, directed by Gareth Edwards, grossed $525m worldwide; Michael Dougherty's Godzilla: King Of The Monsters grossed $387m. Adam Wingard (The Guest) directs Godzilla Vs Kong, with a cast led by Alexander Skarsgard, Millie Bobby Brown, Rebecca Hall and Brian Tyree Henry.
'Godzilla Vs Kong' loses China throne to 'Sister'
Despite a strong $43.5m second session (-38%) for Legendary's Godzilla Vs Kong in China, the CGI blockbuster was pushed off the top spot by Lian Ray Pictures' release of local drama Sister, which surprised with a powerful $53.5m debut.
Ruoxin Yin (Farewell My Lad, 2020) directs from a screenplay by Xiaoying You (Love Education, 2017). Nineteen-year-old Zifeng Zhang (Go Brother!, 2018) stars as a young woman who must choose between pursuing an independent life and looking after her younger brother after their parents die. Confronting such issues as the privileged status of sons and the sacrifices expected of daughters, Sister has clearly struck a chord with Chinese cinemagoers.
Sister and Godzilla Vs Kong were both way ahead of other titles in the market. Three new releases round out the top five: Filmko Pictures' Monkey King Reborn ($7.4m), Jiabo Culture Development's The Eleventh Chapter ($5.2m) and Henglu Film and TV's Tomorrow Will Be Fine ($3.6m). Drama The Eleventh Chapter (aka Ru Shi Ni Wen), from director/co-writer/star Jianbin Chen, premiered at Beijing International Film Festival in 2019. Director Yuan Yuan's romantic comedy Tomorrow Will Be Fine stars Yilei Jiang and Zhang Chao respectively as a failing screenwriter and an unsuccessful singer who end up being forced to live together.
All China box office numbers are courtesy of Artisan Gateway.
'Peter Rabbit 2' posts strong hold in Australia
UPDATED: Sony Pictures' Peter Rabbit 2: The Runaway has reached an early $4.6m international running total and stayed strong in its second session in Australia, declining just 9% with weekend takings of $2.1m, and a total after 11 days of $4.2m. The sequel also landed in New Zealand, grossing $459,000 including previews in its debut frame, which is just 8% behind the pace of Peter Rabbit (2018).
The original grossed an impressive $20.7m in Australia, and $3.1m in New Zealand. Director Will Gluck returns for the sequel, in which Peter (voiced by James Corden) goes off for an adventure in the big city.
'Tom & Jerry' reaches $93.2m global total
UPDATED: A new opening in Australia ($1m) gave Warner Bros' Tom & Jerry a boost, with confirmed weekend takings of $3.1m (up 7%) in international markets, plus $1.4m (down 48%) in North America. Cumulative takings are $39.4m in North America, $53.8m internationally, and $93.2m globally.
Individual territory totals for the live-action/animation hybrid – which is also known as Tom & Jerry The Movie – show China leading the international pack with $16.1m, ahead of Russia ($7.9m), Japan ($5.6m), Mexico ($2.7m) and United Arab Emirates ($2.2m). Next are Saudi Arabia ($2.1m), Spain ($1.5m), Colombia ($1.4m), and Brazil and Singapore (each on $1.2m).
'Nobody' boosted by new openings
UPDATED: Like Tom & Jerry, Universal's Nobody was also boosted by a new opening in Australia, where the action thriller began with a confirmed $1m. The film also debuted in Taiwan ($400,000), Hong Kong ($200,000), New Zealand ($200,000) and South Africa ($57,000). These openings helped Nobody achieve an estimated $2.9m at the weekend in international markets (down just 20%) to reach $9.3m. In North America, the film grossed $3m (down 56%) for $11.8m. The global total so far is $21.1m.
Bob Odenkirk (Better Caul Saul) stars as a man who becomes the target of a vengeful drug lord after he intervenes to help a woman being harassed by a group of men. Moscow-born Ilya Naishuller directs. Nobody next lands in South Korea (April 7), Spain (April 30) and Mexico (May 7).
'Raya And The Last Dragon' hits $58m
Disney's Raya And The Last Dragon is in a quiet phase while executive wait for cinemas to reopen in the major European markets. Thus far the animated fantasy adventure has amassed $58m and the lead markets are China ($19.1m), Russia ($11.4m), Australia ($4.8m), Japan ($2.9m), and South Korea ($2.6m).
Avatar's latest tally stands at $2.083bn with the Chinese re-release generating $54.6m, and Pixar's Soul has grossed $117.9m from international.'