Nordic Film Market includes debut films by Force Majeure actress, the screenwriter of A Royal Affair and director of viral hit Las Palmas; CAA, UTA and ICM agents among attending industry.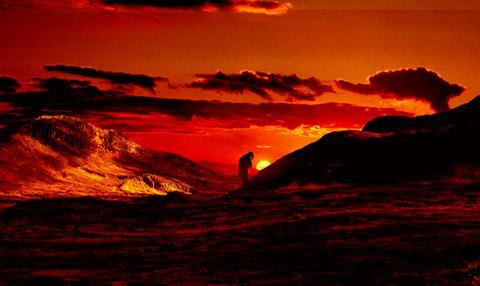 Scroll down for full list
More than 40 Nordic films and works in progress will be presented at the fruitful Nordic Film Market in Goteborg, which runs Feb 4-7 during to the Goteborg Film Festival (Jan 29 - Feb 8).
Often a productive staging post for impressive upcoming regional features and emerging talent, the 2016 lineup includes 17 finished features and 20 works in progress, plus eight titles presented as part of the Nordic Film Lab Discovery programme.
The works-in-progress presentations (see full list below) include ten debut films from the likes of A Royal Affair screenwriter Rasmus Heisterberg, viral hit Las Palmas director Johannes Nyholm, Force Majeure actress Fanni Metelius and Cannes Cinefondation alumni Juho Kuosmanen and Shahrbanoo Sadat.
Other works in progress will be presented from directors Mads Brugger (The Ambassador), Oskar Thor Axelsson (Black's Game) and Nicolo Donato (Brotherhood).
World premieres at the NFM include Mads Matthiesen's Teddy Bear follow-up and his English-language debut The Model, Shelley by Ali Abbasi, Welcome To Norway! by Rune Denstad Langlo and Mans Mansson's The Yard (which will be the public festival's opening night film on Jan 29).
Sweden's recent box-office hits A Man Called Ove and A Holy Mess will also screen for international industry.
TV and digital outlooks
Other industry programmes in Goteborg include TV Drama Vision (Feb 3-4) which features a new juried screenwriting pitch competition for women's voices on Feb 3 with an $18,000 (SEK 150,000) development award.
Speakers at the conference will include top Nordic commissioners from YLE, SVT, DR, SVT, NRK, TV4, Polly Williams, head of scripted drama for eOne and Creative England Television Drama Venture; ZDFs Robert Franke; and Deutschland 83 writer Anna Winger and producer Jorg Winger. Finland is the country of focus.
TV works in progress to be presented include Swedish/French series Midnight Sun, Finnish series Lola Upside Down, and German series NSU German History X.
The Nostradamus seminar on Feb 4 will invite experts to look at the future of the screen industries for the next three to five years.
Around 500 international industry guests attend the NFM, including for the first time agents from CAA, UTA and ICM.
In an increased focus on rising talents, NFM will let Nordic Film Lab participants present development titles to financiers, sales companies, distributors, festival programmers and potential co-producers.
NORDIC FILM MARKET WORKS IN PROGRESS:
Across The Fields (Den), dir Daniel Joseph Borgman, prod Katja Adomeit
Across The Water (Den), dir Nicolo Donato, prod Peter Bech
Cold Case Hammarskjold (Den), dir Mads Brugger, prod Peter Engel
Finale (Den), dir Søren Juul Petersen, prod Jacob Kondrup

In The Blood (Den), dir Rasmus Heisterberg, prod Caroline Schlüter Bingestam
Wolf And Sheep (Den), dir Shahrbanoo Sadat, prod Katja Adomeit

Devil's Bride (Fin), dir Saara Cantell, prod Markku Flink

Little Wing (Fin), dir Selma Vilhunen, prod Kaarle Aho Kai Nirdberg

The Happiest Day In The Life of Olli Maki (Fin), dir Juho Kuosmanen, prod Jussi Rantamäki

I Remember You (Ice), dir Oskar Thor Axelsson, prod Skuli Malmquist
Late Summer (Nor), dir Henrik Martin Dahlsbakken, prod Asmund Kjos Fjell
The Rules For Everything (Nor), dir Kim Hiorthoy, prod Yngve Saether
The Cave (Nor), dir Henrik Martin Dahlsbakken, prod Åsmund Kjos Fjell

The Lion Woman (Nor), dir Vibeke Idsoe, prod John M Jacobsen
Valley of Shadows (Nor), dir Jonas Matzow Guldbrandsen , prod Alan R Milligan
Citizen Schein (Swe), dir Maud Nycander, prod Rebecka Hamberger
Sami Blood (Swe), dir Amanda Kernell, prod Lars Lindstrom
The Boyfriend (Swe), dir Fanni Metelius, prods Rebecka Lafrenz, Mimmi Spang
The Ex-Wife (Swe), dir Katja Wik, prod Marie Kjellson
The Giant (Swe), dir Johannes Nyholm, prod Maria Dahlin (pictured)
NORDIC FILM LAB DISCOVERY:
The Waleed Ahmed Story (Nor), dir Emil Trier, prod Natalya Sarch (Motlys)
The Charmer (Den), dir Milad Alami, prod Stinna Lassen (Good Company Films)
The Distant Barking Of Dogs (Den), dir Simon Lereng Wilmont, prod Monica Hellström (Final Cut For Real)
The Holy Spider (Den), dir Ali Abbasi, prod Jonas Wagner Psychosis In Stockholm (Swe), dir Maria Bäck, prod Anna Maria Kantarius (Garagefilm)
The Chauffeur (Swe), dirs Mistre Tesfaye and Arvin Kananian (Woosha Film)
Shield (Swe/Lith/Den), dir Ellen Fiske, prod Tomas Smulkis
Boys On A Train (Den/Fin), dirs Petri Lukkainen & Thomas Daneskov, prod Kirstine Barfod (Danish Documentary Production)
NORDIC FILM MARKET FEATURE FILMS:
37,dir Puk Grasten (Den)
Satisfaction 1720, dir Henrik Ruben Genz (Den)
Shelley, dir Ali Abbasi (Den)
The Model, dir Mads Matthiesen (Den)
Tale Of A Lake, dirs Marko Rohr, Jim Saarniluoto (Fin)
The Mine, dir Aleksi Salmenpera (Fin)
The Look Of A Killer, dir Lauri Nukse (Fin)
In Front Of Others, dir Oskar Jonasson (Ice)
Reykjavik, dir Asgriumur Sverrisson (Ice)
Doing Good, dir Margret Olin (Nor)
Welcome To Norway, dir Rune Denstad Langlo (Nor)
A Holy Mess, dir Helena Bergstrom (Swe)
A Man Called Ove, dir Hannes Holm (Swe)
I Called Him Morgan, dir Kasper Collin (Swe)
The Garbage Helicopter, dir Jonas Selberg Augusten (Swe)
The Yard, dir Mans Mansson (Swe)
Under The Pyramid, dir Axel Petersen