Fox's comedy drama climbs to number one in its third weekend of release.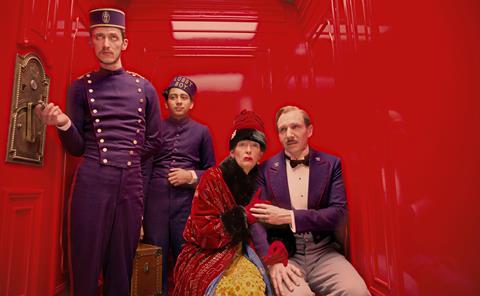 With a remarkably small 9% drop, The Grand Budapest Hotel has risen to the top of the UK box office in its third weekend of wide release.
Fox's comedy drama checked into top spot with a non-final $2.1m (£1.2m) for $10.4m (£6.3m) to date in the UK. It is the only film in this week's chart to gross over £1m.
Having adding over $3.3m (£2m) over the past seven days, it stands a great chance of becoming director Wes Anderson's best-ever UK performer, above Fantastic Mr. Fox's $14.9m (£9.03m) result.
Included in The Grand Budapest Hotel's takings is the sold-out Secret Cinema run of the film, which has just been extended to April 6. By the end of the run, Secret Cinema will have provided a terrific $1.1m (£660,000) to the overall gross, following on from their success with one-off screenings of The Imposter and their run of Prometheus.
Fabien Riggall, founder/director of Secret Cinema, commented: "The film has become Wes Anderson's greatest venture yet. We believe that we have established an important formula in which to release new films in the future."
Fox also provided the week's highest new entry in the form of Starred Up. The hard-hitting prison drama posted a non-final UK debut of $813,000 (£492,804) from its 316 sites, including previews, to chart sixth.
Mr. Peabody & Sherman has journeyed to $20.8m (£12.6m) after seven weeks in play.
EONE
Last week's champion Need for Speed fell down to the grid to second with $1.6m (£984,000) through eOne. The video game adaptation has taken $6.1m (£3.69m) in the UK after two weeks in play.
Released in 55 sites though eOne, Yves Saint Laurent started its UK run with $205,000 (£124,000), including previews. Despite being his third feature, the biopic is the debut UK release for director Jalil Lespert.
12 Years a Slave and Dallas Buyers Club are up to $32.6m (£19.78m) and $8.3m (£5.06m), respectively.
WARNER BROS
Having crossed the £30m mark last weekend, The Lego Movie held firm in its sixth weekend of release with $1.34m (£811,000). Warner Bros' critically acclaimed animation is now up to a terrific $51.3m (£31.1m) in the UK.
Also for Warner Bros, 3D sequel 300: Rise of an Empire hacked its way to an additional $1.29m (£783,000) for $11.3m (£6.87m) to date.
Multi-Oscar winner Gravity is up to $53.7m (£32.6m).
STUDIOCANAL
Rounding off this week's top five was StudioCanal's Non-Stop, which added $1.2m (£697,128) after dropping just 23% in its fourth weekend. Jaume Collet-Serra's high-concept thriller is now up to $13.4m (£8.1m) and is currently the third biggest grosser for the distributor, behind Tinker Tailor Soldier Spy and Rush.
Expanding to 73 sites in its second weekend, Under The Skin enjoyed a minimal drop to take $325,000 (£196,769) for a strong ten-day tally of $983,000 (£596,070) through StudioCanal.
LIONSGATE
Nick Hornby adaptation A Long Way Down recorded a UK bow of $597,000 (£361,901) from its 363 sites through Lionsgate to chart seventh.
That tops the debut of director Pascal Chaumeil's only other UK release, the French-language Heartbreaker, which grossed $198,000 (£119,742) albeit from considerably less sites at 59.
PARAMOUNT
While not director Jason Reitman's lowest-ever UK debut, Labor Day could only manage a somewhat soft non-final $456,000 (£276,831) bow from its 319 sites through Paramount.
It's worth nothing though that both Thank You for Smoking ($311,000/£188,676) and Young Adult ($227,000/£137,736) were both released in considerably less sites at 100 and 157, respectively.
UNIVERSAL
Ride Along has taken $6.5m (£3.94m) in the UK through Universal, adding $346,000 (£210,000) in its fourth weekend of release.
SONY
US Valentine's Day box office hit About Last Night recorded a $284,000 (£172,181) UK debut from its 209 sites through Sony. That's director Steve Pink's lowest ever UK opening, behind Accepted's $576,000 (£349,897) from 249 sites.
DISNEY
Dropping 25% in its sixth weekend, Tinker Bell and the Pirate Fairy sailed to an extra $236,000 (£143,000) for $9m (£5.46m) so far in the UK through Disney.
Also for Disney, Frozen stands at $64.9m (£39.36m) after a $140,000 (£85,000) weekend.
ARROW FILMS
Now in its third weekend of release, Irish comedy The Stag took a further $130,000 (£78,973) from its 122 sites for $699,000 (£424,078) to date through Arrow Films.
DOGWOOF
Released in eight screens through Dogwoof, The Unknown Known posted a UK bow of $19,000 (£11,455). Director Errol Morris' last UK release, Tabloid, grossed $7,600 (£4,618) from its seven sites on debut.
PECCADILLO PICTURES
Fabio Grassadonia & Antonio Piazza's feature debut Salvo recorded a UK debut of $8,100 (£4,887) from its six sites through Peccadillo Pictures.
UPCOMING RELEASES
This week sees saturation releases for Disney's Captain America: The Winter Soldier (opens March 26), Lionsgate's The Legend of Hercules and Disney's Muppets Most Wanted, following previews over March 22/23.
Altitude's Oscar winner 20 Feet from Stardom receives a wide release, while Artificial Eye's The Past and Metrodome's The Borderlands are among the films receiving a limited release.