MAY 5 UPDATE: Superhero tentpole scores $17m on Thursday night in North America.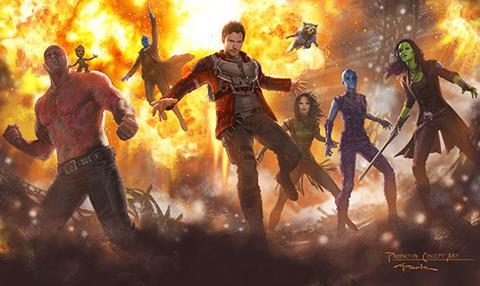 UPDATED: Marvel Studios' Guardians Of The Galaxy Vol. 2 currently stands at $167m internationally after crossing the $150m milestone on Wednesday and stands at $184m worldwide.
The tentpole is in the early hours of release in China and North America, where it grossed $17m on Thursday night.
Guardians Of The Galaxy Vol. 2 arrived in South Korea on Wednesday, the Buddha's Birthday holiday, on $4.4m including previews for the biggest May debut, the biggest opening day of 2017 so far, and the third biggest opening day in the Marvel Cinematic Universe. It added $1.9m on Thursday for $6.3m heading into Friday, which is the Children's Day holiday.
The tentpole debuted in Russia on Thursday on $2.8m and is likely to be the number one global release this weekend when it ventures into 16 additional markets through Walt Disney Studios Motion Pictures International including Argentina.
It is tracking to open in the $150m three-day range in North America this weekend and got off to a flying start with $17m from Thursday night previews, the biggest of the year so far.
The second instalment of the planned Guardians Of The Galaxy trilogy stands at $27.6m in the UK, $14m in Australia, $13.8m in Germany, $12.5m in Mexico, $12m in France, and $10.9m in Brazil.
The film will screen on an additional 700 IMAX screens in 31 markets including China and North America, where it opens on Friday. James Gunn's superhero sequel stars Chris Pratt, Zoe Saldana, Dave Bautista, Vin Diesel, Bradley Cooper, and Karen Gillan.
Moana has amassed $392.2m at the international box office, while live-action tentpole Beauty And The Beast stands at $676.8m. Both films have completely opened.
Universal Pictures International's The Fate Of The Furious crossed $1bn worldwide last weekend. The action thriller currently stands at $910.2m internationally.
F. Gary Gray's eighth instalment of the franchise, Universal's fifth title to cross $1bn worldwide, has exceeded the lifetime performances of the first six Fast And Furious films.
Illumination and Universal Pictures' Sing has grossed $359.2m, while Jordan Peele's Get Out has generated $23.5m as it heads into 15 territories this week including Australia, Germany and France.
Dreamworks Animation's The Boss Baby currently stands at $256.4m and more than $400m worldwide, while Logan has generated $381.1m. Each has one territory left to open through Fox Intenational. Hidden Figures has generated $60m internationally, while Gifted stands at $714,000 and opens in two.
Warner Bros Pictures International's heist comedy Going In Style has grossed $26.4m and will debut in France and Italy this week.
Legendary and Warner Bros' Kong: Skull Island has generated $397.3m, while The LEGO Batman Movie has reached $134.6m.
Meanwhile, Rosario Dawson and Katherine Heigl starrer Unforgettable stands at $3.4m and CHiPS has reached $7.7m.
Paramount Pictures International sci-fi action film Ghost In The Shell starring Scarlett Johansson has grossed $127.4m.
Lionsgate International's Power Rangers has reached $50.5m. The action film will not see its next debut until May 12 in China.
Patriots Day starring Mark Wahlberg has grossed $15.5m and will debut in Brazil on May 11.