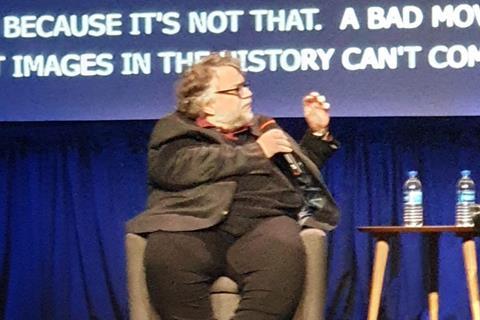 Guillermo del Toro has bullishly addressed fears around artificial intelligence in the film industry, saying he is more worried about "natural stupidity" than the technology itself.
Speaking at the latest TIFF Visionaries event at Toronto International Film Festival, the Mexican filmmaker said, "People say 'are you worried about AI?'. I'm worried about natural stupidity", to laughter from an excited audience.
"If people want movies made by AI – let them get them immediately," continued the filmmaker, who was in conversation with TIFF head Cameron Bailey. "I don't care about people that want that. Let them be fulfilled."
Del Toro has long been a champion of the artistry involved in the film industry, particularly in animation, and here repeated his mantra that "animation is a medium and not a genre."
He made a surprise appearance at the opening ceremony yesterday (September 7) to introduce Hayao Miyazaki's latest film The Boy And The Heron. In his talk today, Del Toro praised Miyazaki's ability to infuse his animation with his own life to bring the audience close.
"Animation is so intimate," said the director. "When you see a Hayao Miyazaki movie, it's profoundly autobiographical."
He then brought more laughter from an adoring audience by saying, "Animation is to live action what Ginger Rogers is to Fred Astaire. The same steps as you, but backwards and in high heels."
Del Toro spoke at length about his process, with Bailey managing only a handful of questions in the hour-long session. Among other topics, the director discussed the difference between mainstream blockbuster animation, and the fantasy animation of the kind he used in Pan's Labyrinth.
"Fantasy doesn't want to organise your room; it wants to destroy it and take a shit in the middle of it," said Del Toro. "Fantasy wants to confront you and say 'these are things that you normally don't address in your normal life.' It comes with the outsized assortment of desire, abandonment, power."
He also addressed the prevalence of audiovisual content in contemporary life, saying "In the past we had 12 hours of life, and four hour of screen [per day] – we relinquished ourselves to the screen very easy. Now we relinquish ourselves to the screen all day long."
He cited the example of a lady who told him she enjoyed his Oscar-winning film The Shape Of Water, and praised him for its accuracy, as she had used her phone to Google it while watching the film. "Nobody is going to give themselves willingly to you," said the director, who believed filmmakers have a harder task in capturing an audience's attention.
He also delineated the difference between television and film, having made projects for both formats. "TV is hanging out – you want to hang out with the characters," said Del Toro. "It's a more intimate thing but also more subservient. Movies, you're there, and you're going to listen for two hours – or more, goddamit!
"TV tells us we look good in those jeans," joked Del Toro. "Movies say, 'you should leave those tacos on the plate my friend!"
Del Toro has shot multiple films in Toronto, including 1997's Mimic and 2013 blockbuster Pacific Rim. He has a home in the city; and was described by producer J. Miles Dale as "the greatest adopted son of the city" in an address at the start of the session.
Toronto continues until September 17.