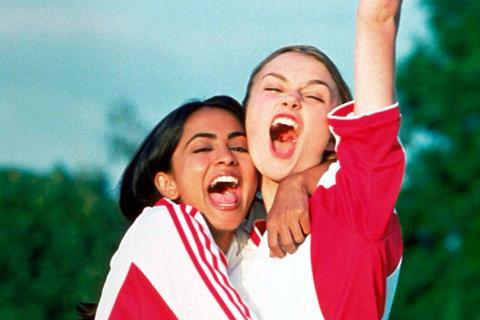 Director Gurinder Chadha has said that her breakthrough hit Bend It Like Beckham wouldn't get made today because it would be seen as too "niche", and believes that representations of diversity in British cinema are not improving.
Chadha (Viceroy's House, Bride And Prejudice) was speaking at the launch of the new BFI Filmography database, which includes information on over 10,000 UK feature films from 1911 to the present day.
Bend It Like Beckham starred Parminder Nagra and Keira Knightley and made $76m at the worldwide box office in 2002, including $32million in the US.
Talking on an industry panel, Chadha said: "I personally don't think Bend it like Beckham would get made in today's climate in the film industry. I think it would be seen as a maverick, isolated film [with] no reason for prequels, sequels or all the rest of it."
Speaking to Screen after the event she added: "When you say it's about a kid of colour in a situation, people immediately say: 'Oh, it's someone of colour, it's not universal'. It immediately becomes ghettoised, niche and people perceive that people around the world won't want to see it."
"If you're a financier looking for something commercial you'll look at [Bend It Like Beckham] and go: 'it's not going to make any money'. I think you'd struggle now. People would look at it and think: 'it's not global, it's not going to sell, it's not international'… even though it was."
"That's why you don't have diverse storytelling… it's all about: can this go on to make loads of money and can we sell it to every single territory? Will every single country in the world want to buy it?"
During the panel, Chadha said that she is not optimistic about the representation of diversity in British film: "I think that we as an industry need to look at the stories that we're telling and encourage those voices. Being diverse doesn't mean sticking a person of colour into your crew… diversity to me is about hearing stories from those different perspectives that you might not necessarily be familiar with. That to me is where I would like to see change.
"I would ask of our industry to look sometimes beyond commerce and look at those other voices. From where I'm sitting, I see the graph [going down] in term of diversity in filmmaking in British cinema."
According to new research carried out by the BFI, Chadha is the joint-most prolific female film director currently working in the UK today (alongside Sally Potter), with seven credits.