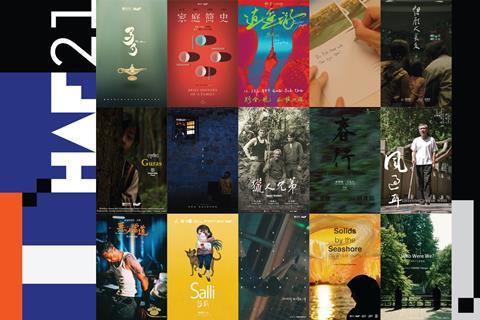 The Hong Kong International Film Festival Society has announced 15 work-in-progress projects, completing the full line-up of the 21st Hong Kong-Asia Film Financing Forum (HAF21).
A total of 43 projects will be presented at HAF, including 28 in-development projects announced last month, which is set to run from March 13-15 alongside the 27th Hong Kong Film & TV Market (Filmart). It will mark the first in-person edition for both events since pre-Covid 2019.
Scroll down for full list of projects
Emerging and established actors who lead the cast of the 15 WIP projects include Fish Liew, Austin Lin, Ma Chih-Hsiang, Ryuhei Matsuda, Wang Xuebing, Wu Kang-Ren and Zu Feng. Prominent producers such as Stanley Kwan, Mai Meksawan and Ram Krishna Pokharel are also on board to spearhead some of the projects.
The line-up comprises eight feature debut projects including: A Journey in Spring by Peng Tzu-Hui and Wang Ping-Wen, which follows an old man who puts his wife in a freezer when she passes away suddenly, only to start a journey to face his life regrets; Ma Xiang's The Actor in which Wang Xuebing (The Pluto Moment) stars as an actor who seeks help from a friend with extraordinary power to revive his career; Lin Jianjie's family drama Brief History of a Family, starring Zu Feng (Summer Of Changsha) and Guo Keyu (Red Cherry), which revolves around a seemingly harmonious middle-class family disrupted by a mysterious friend of the son; and Fly Me to the Moon, produced by Stanley Kwan for director Sasha Chuk, about the struggles of two sisters who moved from Hunan to Hong Kong in the 1990s, with a cast led by Wu Kang-Ren, Angela Yuen, and Chu Pak-him.
Further first feature projects include Hani by Hou Dasheng, a Yunnan-set drama about a 14-year-old boy who is about to marry a 12-year-old child bride deep in the mountain; She Sat There Like All Ordinary Ones, directed by Qu Youjia and produced by Xie Meng (Memoria), a coming-of-age drama about two high school students who befriend and reject each other; Lien Chien-Hung's Salli, a Taiwan and France co-production about a 38-year-old chicken farmer who starts an online romance with a Frenchman until he disappears, which has Lee Lieh (Detention) as executive producer and Austin Lin (IWeirDo) and Esther Liu (Light The Night series) in the cast; and Solids by the Seashore, produced by Mai Meksawan (Manta Ray) for director Patiparn Boontarig, follows a young Muslim woman who falls for a female activist-turned-visual artist in south Thailand.
Two female-driven stories are also in the selection. In Carefree Days, director Liang Ming whose Wisdom Tooth won the best director award at HKIFF's Young Cinema Competition, reunites with his actress Lv Xingchen who plays a young woman whose life collapses when she gets uraemia, but still she decides to go on a trip with her best friends, while Do Fish Sleep with Their Eyes Open tracks a young Chinese woman as she starts a new life in Brazil, living with her aunt in a fancy building with hidden stories. The latter is a co-production between Brazil, Taiwan, Argentina and Germany directed by Nele Wohlatz whose The Future Perfect won the best first feature at Locarno.
A trio of projects feature top leading men. Su Hung-En's suspense thriller Hunter Brothers is about a man, newly released from jail, who settles unfinished family business with his brother, with Ma Chih-Hsiang, Lin Ching-Tai, and Hsu Yi-Fan (all from Seediq Bale) in the cast; Listening to the Wind by Peng Tao (Leaving For Love) is about a terminally ill man who returns to his hometown with his wife after a long absence, hoping to pay a last visit to his estranged father; and starring Philip Keung, Fish Liew and Ling Man-lung, The Remnant by Kwan Man-hin is about a former gangster boss who comes out of retirement when residents in his poor neighbourhood are threatened with eviction.
Two non-Chinese language projects round up the selection. Guras by Saurav Rai whose Invitation won the grand jury prize at Jio MAMI Film Festival follows the mystical journey of a nine-year-old Nepali girl in search of her lost dog, with Ram Krishna Pokharel, winner of a Sports Emmy Award, as producer, while Who Were We? by Tetsuya Tomina whose Blue Wind Blows premiered at Berlinale's Generation Kplus explores the inexplicable love between a man and a woman with no memory of the past. The latter film stars Ryuhei Matsuda (Before We Vanish) and Nana Komatsu (Moonlight Shadow).
HAF will host an open pitch session on March 13 for WIP filmmakers to introduce their projects and showcase footages. All HAF and Filmart badge holders can attend.
HAF21 work-in-progress (WIP) projects
* First feature projects
The Actor (China)*
Dir. Ma Xiang
Pro. Zhou Yaowu
Prodco. Hangzhou Mashao Pictures Co., Ltd.
Brief History Of A Family (China)*
Dir. Lin Jianjie
Pros. Lou Ying, Wang Yiwen, Zheng Yue
Prodco. First Light Films
Carefree Days (China)
Dir. Liang Ming
Pro. Wu Jueren, Zhang Jian, Zhu Dan
Prodco. Chips Pictures
Do Fish Sleep With Their Eyes Open? (Bra-Tai-Arg-Ger)
Dir. Nele Wohlatz
Pros. Nele Wohlatz, Emilie Lesclaux, Kleber Mendonça Filho, Justine O., Roger Huang, Rosa Martínez Rivero, Violeta Bava, Meike Martens
Prodcos. CinemaScópio, Yi Tiao Long Hu Bao International Entertainment Co., Ruda Cine, Blinker Filmproduktion GmbH
Fly Me To The Moon (HK)*
Dir. Sasha Chuk
Pro. Stanley Kwan
Prodco. The Flow of Words Limited
Guras (India-Nepal)
Dir. Saurav Rai
Pros. Ram Krishna Pokharel, Sanjay Gulati
Prodcos. Icefall Production, LowIQ Production, Crawling Angel Films, Neonate Audio LLP
Hani (HK)*
Dir. Hou Dasheng
Pro. Wang Hongwei
Prodco. Jiagu Culture Communication Co., Ltd.
Hunter Brothers (Tai)
Dir. Su Hung-En
Pro. Chen Pao-Ying
Prodco. Phbah Film Production Ltd.
A Journey In Spring (Tai)*
Dirs. Peng Tzu-Hui, Wang Ping-Wen
Pro. Wang Ping-Wen
Prodco. Being Film and Art Co., Ltd.
Listening To The Wind (China)
Dir. Peng Tao
Pros. Yao Anlian, Wang Biaoxia, Wang Rongjing
Prodcos. Heaven Pictures (Shanghai) Co., Ltd., Beijing TH Entertainment Co., Ltd.
The Remnant (HK)
Dir. Kwan Man-hin
Pros. Ding Yuin-shan, Heidi Ng Hoi-yan
Prodco. Federation of Hong Kong Filmmakers Limited
Salli (Tai-Fr)*
Dir. Lien Chien-Hung
Pros. Lee Lieh, Dennis Wu, Amanda Tseng Man-Yin, Uilin Ong
Prodcos. ENLA Media Limited, The Graduate Co., Ltd., Bole Film
She Sat There Like All Ordinary Ones (China)*
Dir. Qu Youjia
Pros. Xie Meng, Wu Xianjian, Gao Song
Prodcos. Beijing Booy Media Co., Ltd., Rediance
Solids By The Seashore (Thai)*
Dir. Patiparn Boontarig
Pros. Mai Meksawan, Chatchai Chaiyon
Prodcos. Diversion, Error Brothers
Who Were We? (Jap)
Dir. Tetsuya Tomina
Pro. Hatanaka Mina
Prodco. TETSUYA to MINA film