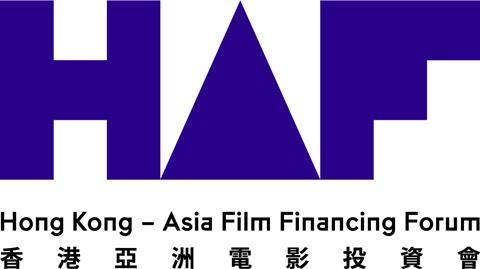 The Hong Kong-Asia Film Financing Forum (HAF, March 25-27) has announced the 33 projects shortlisted for this year's edition of the co-production and financing market, including 24 fictional features and nine documentaries.
The selection includes leading Asian filmmakers such as Thailand's Apichatpong Weerasethakul, Taiwan's Giddens Ko, Japan's Naoko Ogigami and Singapore's Yeo Siew Hua, as well as 11 first-time feature directors.
Seven Hong Kong projects have been selected, including Pang Ho-cheung's The End, the story of a psychic medium who seeks help from a dead director for the ending of his unfinished script; Derek Chiu's contemporary social drama When Youth Departs; and Ng Kai-chung's animated feature Another World.
Projects from mainland China include Tao Huaqiao's Eternal Night, to be produced by Korean auteur Kim Ki-duk; Qiu Sheng's Gu And The Ghost, the director's second feature following award-winning drama Suburban Birds; and Lina Yang's Song Of Spring, about an 85-year-old mother and her 65-year-old daughter who has Alzheimer's disease.
Documentaries in the line-up include Eden Bernal's The Siren Song, about three generations of Mexican fisherwomen, which is produced by Hong Kong's Polly Yeung and is the first project from Mexico to take part in HAF (see full list of projects below).
HAF is also introducing two new prizes from Create Hong Kong this year – the HAF Documentary Award, to be shared between one Hong Kong project and one non-Hong Kong project, and the WIP Fiction Award. Projects selected for the Work-in-Progress (WIP) section will be announced in February. In total, this edition of HAF will hand out 13 awards worth $154,000 (HK$1.2m) in cash and value-in-kind.
HAF 2020 LINE-UP:
Among Us (Taiwan)
Director: LIN Cheng-Sheng
Producer: LIN Chi-Chieng
Production Company: Among We Film Production Co
Hypnos (Taiwan)
Director: HO Chao-Ti
Producer: LIAO Ching-Sung, Stefano CENTINI
Production Company: Conjunction Films
Inspirare (China, Canada)
Director: KANG Yuqi
Producer: CAO Xi, Dana KALMEY
Production Company: Inner Mongolia lanshanyang Cultural Communication
June Snow (Hong Kong)
Director: Dean NAPOLITANO
Producer: Ruby YANG
Production Company: MBN Pacific Media
Kabul Melody (Afghanistan)
Director: Sahra MANI
Producer: Annie OHAYON-DEKEL
Production Company: 24images
My Genie (South Korea)
Director: PARK Hyuck-jee
Producer: EOM Jeong-hwa
Production Company: Hiharbor Pictures
Shimshon, Hasidic In Asia (Hong Kong)
Director: Sadie GRANBERG
Producer: Shmuel JUNGER
Production Company: Pop-up Film Limited
The Siren Song (Mexico)
Director: Eden BERNAL
Producer: Polly YEUNG
Production Company: Sinapsis, The Lady Improper
Waiting For Winter (Bangladesh)
Director: Farid AHMAD
Producer: Salma SONIA
Production Company: Noyakar Productions
9 Temples to Heaven (Thailand)
Director: Sompot CHIDGASORNPONGSE
Producer: Apichatpong WEERASETHAKUL, Kissada KAMYOUNG
Production Company: Kick The Machine Films, At A Time Pictures
Another World (Hong Kong)
Director: NG Kai-chung
Producer: Polly YEUNG
Production Company: Point Five Creations
Bad Education (Taiwan)
Director: Giddens KO
Producer: Molly FANG
Production Company: Crystal Clear Co
Blind Forest (Japan)
Director: OGIGAMI Naoko
Producer: NAGAI Takuro, NOZOE Ryoko
Production Company: RIKI PROJECT
Borrowed Time (China)
Director: CAI Jie
Producer: MO Jinjin
Production Company: Bocut Film Production
The End (Hong Kong)
Director: PANG Ho-cheung
Producer: Daniel YU Wai-kwok
Production Company: Epik Pictures
Eternal Night (China)
Director: TAO Huaqiao
Producer: KIM Ki-duk
Production Company: Onez Picture, Xiang Shi Xiong Di Film, Sensory World Art Studio
Fire Room (Hong Kong)
Director: WONG Ka-ki
Producer: Heiward MAK
Production Company: Goodnight Production
Good Deal (China)
Director: SHEN Di
Producer: Rachel CAI, ZHAO Jin
Production Company: Super Player Film & Media Co, Midnight Blur Films
Gu And The Ghost (China)
Director: QIU Sheng
Producer: HAN Tian
Production Company: CForce Pictures
Happy Journey And Last Will (China)
Director: DAI Xiaolu
Producer: HE Bin
Production Company: Ngorongoro Pictures (Shanghai) Co
I O U (China)
Director: ZHANG Zhonghua
Producer: Julia CHU, SZE Kit-ling
Production Company: Golden Gate Productions
In The Belly Of A Tiger (India)
Director: Siddartha JATLA
Producer: Vivek KAJARIA, Amanda MOONEY
Production Company: Holy Basil Films, Momo Films
Lonely Pine (Kazakhstan, Kyrgyzstan)
Director: Dalmira TILEPBERGEN
Producer: Marina DESSIATKINA
Production Company: Arno Film
The Nurse (South Korea)
Director: KIM Soo-young
Producer: KIM Dong-hwan
Production Company: Owl Pictures
The River Knows Our Names (Vietnam)
Director: Mai Huyen CHI
Producer: Bui Tran Thanh PHONG
Production Company: K'Noy Films
Some Nights I Feel Like Walking (The Philippines)
Director: Petersen VARGAS
Producer: Alemberg ANG, Jade Francis CASTRO
Production Company: vy/ac Productions, Origin8 Media
Song Of Spring (China)
Director: YANG Lina
Producer: LIAO Ching-Sung
Production Company: Moon Bear Culture Creative Studio
Stranger Eyes (Singapore)
Director: YEO Siew Hua
Producer: Fran BORGIA, Dan KOH
Production Company: Akanga Film Asia
The Sunny Side Of The Street (Hong Kong)
Director: LAU Kok-rui
Producer: Peter YAM Yin-cheung
Production Company: Mee Studio
Unreachable Places (China)
Director: CHANG Biao
Producer: GONG Jinjin
Production Company: Mofei Pictures (Beijing) International Culture & Media Co
Ways To Run (Netherlands, Afghanistan)
Director: Aboozar AMINI
Producer: Jia ZHAO, Joost DE VRIES
Production Company: Silk Road Film Salon, An Original Picture
When Youth Departs (Hong Kong)
Director: Derek CHIU Sung-kee
Producer: Derek CHIU Sung-kee
Production Company: Boundary Film Production
Zsazsa Zaturnnah Vs. The Amazonistas Of Planet X (The Philippines)
Director: Avid LIONGOREN
Producer: Avid LIONGOREN, Franck PRIOT
Production Company: Rocketsheep Studio