EXCLUSIVE: Adam McKay and Will Ferrell are executive producing the feature adaptation of Atsuko Hirayanagi's short film, which stars Shinobu Terajima and Josh Hartnett.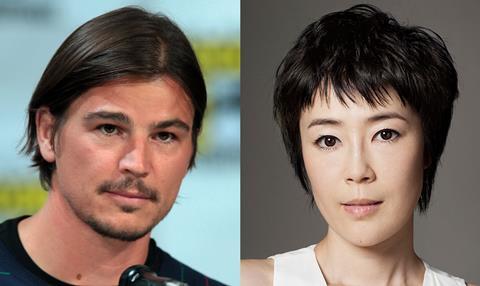 Shinobu Terajima and Josh Hartnett are heading the cast of US-Japan co-production Oh Lucy!, which marks the feature debut of Japanese director Atsuko Hirayanagi.
A feature-length version of Hirayanagi's short film, also titled Oh Lucy!, the film is produced by the US' Matchgirl Pictures, Gloria Sanchez Productions and Meridian Content.
The comedy drama tells the story of a lonely, chain-smoking office lady in Tokyo (Terajima) who falls for her teacher (Hartnett) when she decides to take English lessons. When her teacher disappears, she sets out on a journey to find him that takes her to Southern California.
Producers on the film include Yukie Kito (Tokyo Sonata), Jessica Elbaum (Welcome To Me), Hirayangi and Han West (Lemon), while Adam McKay, Will Ferrell, Meileen Choo and Razmig Hovaghimian are on board as executive producers.
The film, which wrapped this week following a shoot in LA and Tokyo, also stars Kaho Minami (Kabukicho Love Hotel) and Koji Yakusho (Babel). Terijima won best actress at Berlin film festival in 2010 for her role in Kôji Wakamatsu's Caterpillar.
"We fell in love with the short Oh Lucy! and were thrilled that it made the jump to being a feature so effortlessly. Atsuko is such a unique talent and Shinobu, Kaho and Josh are hilarious and heartbreaking together," said producer-director McKay, whose directing credits include Oscar winner The Big Short.
Hirayanagi and Hartnett are both represented by UTA. UTA is representing North American rights while Phantom Film will handle Japanese distribution and NHK has Japanese TV rights.
Hirayanagi's short film Oh Lucy! won the Jury Prize for International Fiction at the 2015 Sundance Film Festival, Second Place at 2014 Cannes Cinefondation and over 35 other awards worldwide. Her feature-length version of the film received the Sundance Institute/NHK Award while at script stage, after which NHK boarded the project as co-producer and co-financier.