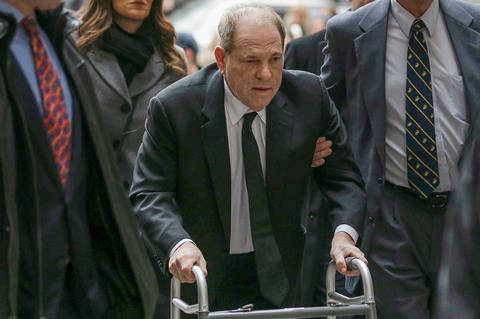 Jury deliberations in the Harvey Weinstein criminal trial will start next week after lawyers presented their closing arguments.
Prosecutors told the Manhattan court on Friday (14) that Weinstein, who has pleaded not guilty to five felony counts including rape and predatory sexual assault, was an "abusive rapist" who stayed in touch with his accusers to ensure they would not turn on him.
Manhattan assistant district attorney Joan Illuzzi has led the case against the former Hollywood mogul and told jurors he believed his power and status would scare women upon whom he preyed from coming forward and complaining.
Illuzzi was attempting to dismantle arguments by Weinstein's defence team that evidence of seemingly friendly emails from the mogul's two accusers Jessica Mann and Mimi Haleyi after alleged attacks did not indicate a meaningful relationship.
According to reports, the assistant district attorney devoted nearly an hour to Annabella Sciorra, one of four "prior bad acts" witnesses whose testimony was intended to show a pattern of behaviour by Weinstein.
After lead defence attorney Donna Rotunno argued on Thursday that Sciorra used a rape claim against Weinstein to try to become relevant again in Hollywood, Illuzzi unsurprisingly took a very different approach.
The prosecutor said Sciorra had nothing to gain by coming forward and, by revealing excruciating details of the alleged rape and its effect on her life, she had not made herself an appealing proposition to Hollywood filmmakers.
Weinstein, 67, has pleaded not guilty to raping Jessica Mann and to sexually assaulting Mimi Haleyi. He is charged with five felony counts and faces life in prison if convicted of predatory sexual assault, the most serious charge against him.
Since 2017, more than 80 women have accused Weinstein of sexual misconduct. He denies any non-consensual sex.