Toymaker vows to add lead character token following accusations of sexism.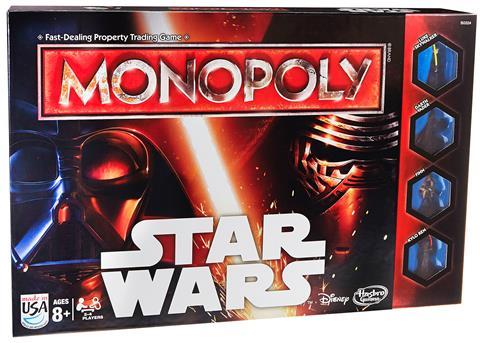 Toymaker Hasbro is to add a Rey token to its Star Wars: Monopoly board game following an outcry from fans over the lead character's omission.
The game includes four player tokens, all of whom are male characters: John Boyega's Finn, Mark Hamill's Luke, Adam Driver's Kylo Ren, and Darth Vader (who doesn't appear in The Force Awakens).
The absence of Rey, played in the film by Daisy Ridley, sparked furore among fans with many accusing the toymaker of sexism. The hashtag #WheresRey resurfaced after trending last month when many noted the dearth of Rey figurines in toy stores.
Hasbro initially released a statement claiming the Monopoly omission was intentional in order to avoid spoilers.
"The Star Wars: Monopoly game was released in September, months before the movie's release, and Rey was not included to avoid revealing a key plot line that she takes on Kylo Ren and joins the Rebel Alliance," a spokesperson for Hasbro explained.
"Fans will see more Rey product hitting store shelves this month, including six-inch and 12-inch Rey action figures. We are thrilled with the popularity of this compelling character and will continue to look for ways to showcase Rey across all of our product lines."
But the US company has subsequently tweeted that it will add the Rey token to its Monopoly game later this year.
"We love your passion for Rey, and are happy to share that we will be including her in the Monopoly: Star Wars game, available later this year."
Daisy Ridley's character – the film's lead - was previously left out of a Millennium Falcon play set which included only Chewbacca and John Boyega's Finn, despite the fact that Rey pilots the ship.
Toymakers and Disney faced similar fan ire in 2014 following the dearth of Gamora figurines on sale around the launch of Guardians Of The Galaxy.
The latest outcry is a minor embarrassment to Disney, which went to admirable lengths to foreground on-screen diversity in The Force Awakens, which this week is set to become the biggest film of all time in the US.