The German-Swiss co-pro has grossed more than $14m to date; Studiocanal has sold the title in 50 territories.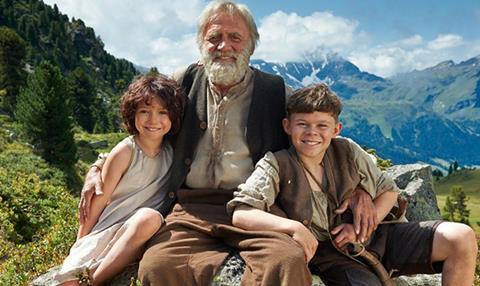 Heidi, Alain Gsponer's family feature based on the classic Swiss children's story, has become the most successful Swiss film ever at the international box office.
According to Swiss Films, the German-language feature starring Bruno Ganz (Downfall) and newcomer Anuk Steffen is now the country's most successful international release, taking $14.1m from the nine territories it has opened in so far, overtaking recent titles such as Northmen: A Viking Saga, More Than Honey and Night Train To Lisbon.
Those nine markets are: Germany ($7.5m); Switzerland ($5.2m); Austria ($1.1m); Portugal ($93,000); and five Middle Eastern territories (Oman, UAE, Jordan, Kuwait and Lebanon) which have added $243,000.
Studiocanal has sold the title into 50 territories worldwide. The next to open will be France on Feb 10, Italy on March 3 and Israel on March 10. Releases are also due across Asia (Japan, South Korea, China, Hong Kong), additional European territories, South Africa and South America.
The film currently sits seventh in the list of most-successful Swiss films by admissions, with more than 355,755 in its home market to date, and is expected to reach the top three by the end of its run.
Heidi, which was made for a budget of $7.6m, is based on Swiss author Johanna Spyri's well-known 1881 children's book about a young girl who lives in the Swiss Alps with her goat-herding grandfather.
In Switzerland, the film has opened in the country's German-speaking region but not yet in Italian or French-speaking regions.
The feature was produced by Swiss outfit Zodiac Pictures International with Munich's Claussen+Putz. Co-producers were Studiocanal, Schweizer Radio und Fernesehen and Teleclub. Public funding came from both Switzerland and Germany.