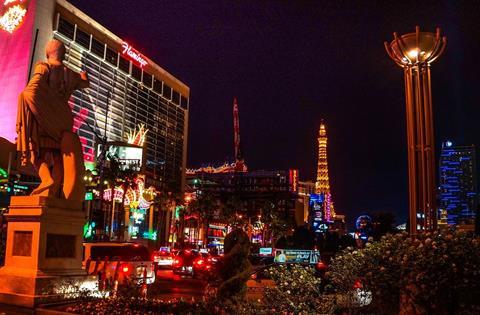 The entertainment community has responded with grief and anger to the deadly attack on Las Vegas festival-goers that left at least 59 dead and more than 500 injured.
Walt Disney Company chairman and CEO Bob Iger said one member of the company had been killed and another injured in the atrocity that unfolded on Sunday night and the small hours of Monday morning.
"Our hearts go out to everyone impacted by the tragic events in Las Vegas – the victims of violence, the witnesses, and the friends and families mourning loved ones," Iger said.
"We are especially heartbroken over the loss of one of our own to this unconscionable and senseless act. Carrie Barnette had been a member of the Disney California Adventure culinary team for ten years and was beloved by her friends and colleagues. Our thoughts are with her family, along with our support, during this incredibly difficult time. Another valued Disney cast member, Jessica Milam, was also seriously injured and we are praying for her recovery."
Stephen Paddock unleashed a shower of bullets from the 32nd floor of the Mandalay Bay casino into a densely packed outdoor country music festival, before reportedly turning the gun on himself.
Mark Ruffalo tweeted, "This day sucks. It sucks to see this happen again and again. It sucks that these dear souls lost their lives to a machine that loves violence. It sucks knowing that nothing at all will be done to curb it."
Ava DuVernay wrote, "The lone wolf. The local shooter. The gunman. Any and everything, but terrorist. Wonder why."
"This is terrorism plain and simple," Lady Gaga wrote. "Terror bares no race, gender or religion. Democrats & Republicans please unite now #guncontrol."
"I love Las Vegas…feeling so broken this morning," Jennifer Lopez wrote.
Chloe Grace Moretz tweeted: "My heart goes out to everyone affected by the horrific events that occurred in Las Vegas, please stay safe and to the Las Vegas police department who ran into a field of open fire, you are all true hero's."
Jason Aldean, who was performing on stage when Paddock began shooting, tweeted: "Tonight has been beyond horrific. I still don't know what to say but wanted to let everyone know that Me and my Crew are safe. My Thoughts and prayers go out to everyone involved tonight. It hurts my heart that this would happen to anyone who was just coming out to enjoy what should have been a fun night. #heartbroken #stopthehate."
Neil Patrick Harris wrote, "I can't wrap my head around the atrocity in Vegas. Sending my heart and deepest regrets to the families and friends affected. #prayforvegas"
Josh Gad had this to say: "Dear Congress, we don't need your moment of silence. We need your moment of action. NOW"
Author Stephen King said, "Condolences to all of those scarred by the violence in Las Vegas last night. We are with you."
Separately, police in Los Angeles confirmed on Monday afternoon that reports of an active shooter on the USC campus amounted to a false alarm.