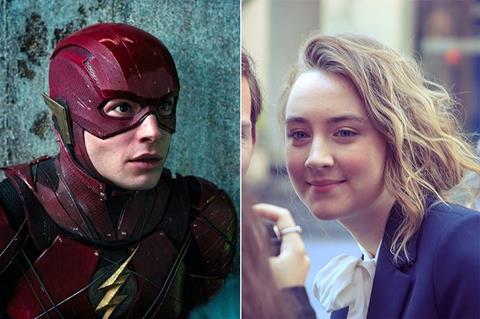 US productions shooting in the UK including Warner Bros' The Flash starring Ezra Miller and Searchlight Pictures' Untitled Murder Mystery with Saoirse Ronan were understood to be going ahead as it emerged the UK government is poised to introduce tighter international border controls for incoming visitors from high-risk destinations, including a compulsory two-week hotel quarantine.
This will mirror the quarantine requirements already in place for other international production hubs including Australia and New Zealand.
Sources said the crew on Searchlight Pictures' 1950's-set murder mystery is in place in the UK and principal photography is ready to start in early February. Tom George, whose credits include UK comedy TV series This Country, directs a cast that includes Sam Rockwell and David Oyelowo.
Warner Bros' The Flash is also thought to be on track for a production start at Warner Bros Studios Leavesden on April 26. Some 85% of the crew is understood to be local, and Argentinian director Andy Muschietti and his sister and producer Barbara Muschietti are already in the UK.
The Flash star Miller is due to wrap production soon on Warner Bros' Fantastic Beasts And Where To Find Them 3 which is already shooting in the UK. Sources said the studio is working to ensure remaining crew and cast arrive in the UK with minimal disruption to the schedule.
Warner Bros also confirmed the UK shoot of The Batman, starring Robert Pattinson, is due to wrap on schedule in March.
Existing quarantine measures were implemented on January 18 after incoming film and TV workers were removed from the list of jobs exempt from Covid-19 restrictions. Since then, people working on film and TV productions have been required to test and produce a negative Covid-19 result no more than three days prior to departure for the UK, and must self-isolate for 10 days upon arrival.
At time of writing Netflix had lined up a shoot at Shepperton Studios in early April on Working Title's production of children's musical Matilda with a cast led by UK-based Emma Thompson.
Paramount Pictures' Mission: Impossible 7 production had been situated at Warner Bros Studios Leavesden in December before a break for the holiday. A scheduled return to Longcross this month was put on hold when the UK imposed another lockdown. The Tom Cruise action thriller is currently shooting in Dubai and the studio plans for the production to return to the UK.
Universal Pictures does not have any immediate plans for UK feature production after it wrapped Jurassic World: Dominion in December.
Sony sources said there were no current or upcoming immediate plans for UK feature productions.