Captain America: Civil War topped the charts in Hong Kong, but local films also performed well.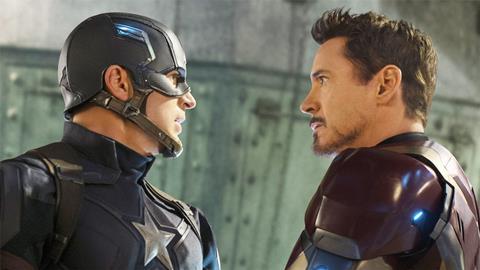 Hong Kong's box office decreased by 2% to $251m (HK$1.95bn) in 2016, although Korean and Hong Kong films managed to break into the top ten.
Disney's Captain America: Civil War was the top-grossing film with $14.52m, according to figures from Hong Kong Box Office, while Korean zombie thriller Train To Busan ranked second with $8.77m and Hong Kong crime thriller Cold War 2 came in third with $8.54m (see charts below).
The decline in overall box office came despite an increase in the volume of films released – the number of Hong Kong films increased by 3.4% from 59 in 2015 to 61 last year, while imported films grew by nearly 5% from 332 to 348.
Hong Kong films grossed $45.33m (HK$352m) in 2016, accounting for an 18% market share, compared to a 19.4% market share in 2015. In addition to Cold War 2, one other local film, Stephen Chow's The Mermaid, made it into the top ten with a gross of $7.12m.
Like most of the titles among the top ten local films (see below), The Mermaid is a Hong Kong-China co-production, designed to appeal to audiences in both markets. However, Hong Kong audiences still show a strong preference for films with majority Hong Kong talent and content, such as Edko Films' Cold War 2; Media Asia's Line Walker, based on a TVB series, and Johnnie To-produced crime drama Trivisa, also backed by Media Asia.
Films produced for release during the Chinese New Year holidays continue to dominate among local films, with The Mermaid, From Vegas To Macau 3 and The Monkey King 2 all ranking in the top five.
HONG KONG OVERALL TOP TEN 2016
(Jan 1 – Dec 31, 2016)
Captain America: Civil War – $14.52m (HK$112.65m)
Train To Busan – $8.77m (HK$68m)
Cold War 2 – $8.54m (HK$66.24m)
Batman Vs Superman: Dawn Of Justice – $8.03m (HK$62.29m)
Doctor Strange – $7.71m (HK$59.79m)
Deadpool – $7.48m (HK$58m)
The Mermaid – $7.12m (HK$55.24m)
Zootopia – $6.69m (HK$51.87m)
Finding Dory – $6.38m (HK$49.52m)
X-Men: Apocalypse – $6.36m (HK$49.36m)
HONG KONG LOCAL FILMS TOP TEN
(Jan 1 – Dec 31, 2016)
Cold War 2 – $8.54m (HK$66.24m)
The Mermaid – $7.12m (HK$55.24m)
From Vegas To Macau 3 – $3.18m (HK$24.63m)
The Monkey King 2 – $2.02m (HK$15.64m)
Line Walker – $1.4m (HK$10.87m)
Call Of Heroes – $1.32m (HK$10.21m)
The Bodyguard – $1.25m (HK$9.71m)
Finding Mr Right 2 – $1.23m (HK$9.51m)
Trivisa – $1.19m (HK$9.25m)
S Storm – $1.12m (HK$8.71m)
Source: Hong Kong Box Office Ltd