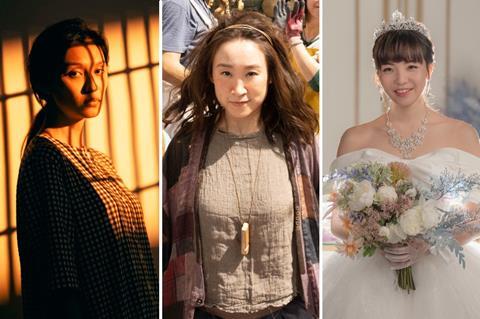 In Hong Kong, local films A Guilty Conscience and Everything Under Control are set to open tomorrow (January 21) on the eve of Chinese New Year while Donnie Yen's Sakra and Kiwi Chow's Say I Do To Me are also joining the festive race.
It marks the first year since 2020 that Hong Kong cinemas can open for business during the lucrative holiday period, following two consecutive years of blackout due to the Covid pandemic that led to cancellations both in the city and overseas markets that scheduled day-and-date releases.
Table For Six was originally meant to release last Chinese New Year but was pushed to September when cinemas were shuttered, going on to become Hong Kong's second highest grossing local and Asian film of 2022. This year, Table For Six producer Edko Film returns with A Guilty Conscience, a courtroom drama by first-time director Jack Ng.
It is led by Table For Six star Dayo Wong as a sharp-tongued barrister who hopes to redeem himself from a past mistake that landed his defendant in jail. Louise Wong and Fish Liew, both from 2021 local box office leader Anita, co-star. The film will open simultaneously in Malaysia, Singapore, North America, the UK, Australia and New Zealand on January 21.
Heist comedy Everything Under Control stars popular singer Hins Cheung, Ivana Wong (also from Table For Six) and Michael Ning (Port Of Call) as well as rising talents Jeffrey Ngai, Joey Hung and Bonnie Wong. It is based on 2021 Taiwanese film Treat Or Trick, itself a remake of 2004 Korean horror comedy To Catch A Virgin Ghost, about two security guards who travel to a remote village to retrieve stolen diamonds.
This second feature film of director Ying Chi Wen is backed by Emperor Motion Pictures, which has last year's Mama's Affair among its recent box office hits. The film will open day-and-date in the UK and the US on January 21, followed by Malaysia on February 2 and Canada on February 3.
Produced by veteran Wong Jing, period martial arts adventure Sakra is directed by and starring Donnie Yen, best known for his Ip Man franchise and role in Rogue One: A Star Wars Story. He plays Qiao Feng, the tragic hero accused of killing his adoptive parents from Louis Cha's novel Demi-Gods And Semi-Devils.
The film has an almost simultaneous multiple-country release, having opened in Malaysia and Singapore on January 16, Indonesia on January 18 and Hong Kong and Taiwan on January 19. All these are ahead of its OTT launch in China on January 21 through streaming platforms Tencent Video, iQiyi and Youku. South Korea will release the film theatrically on January 25. Mandarin Motion Pictures handles international sales.
Now that travelling restrictions have mostly lifted in post-Covid times, promotional tours have resumed and saw Yen making in-person appearances in Singapore, Malaysia and South Korea to meet and greet his fans.
Say I Do To Me is a last-minute addition to the Chinese New Year timetable with its January 26 release date announced only two weeks ago. The romantic comedy marks the film debut of Sabrina Ng, a YouTuber and a member of online platform Pomato. She plays a comedian who vows to achieve viral success on YouTube and concocts a plan to put on a show by marrying herself.
The film will only open in Hong Kong during Chinese New Year. Chapman To of HK Film Production and Winnie Tsang of Golden Scene serve as executive producer and producer respectively. Kiwi Chow's previous directing credits include 2020 romantic comedy Beyond The Dream and documentary Revolution Of Our Times, which premiered as a surprise entry at Cannes in 2021.