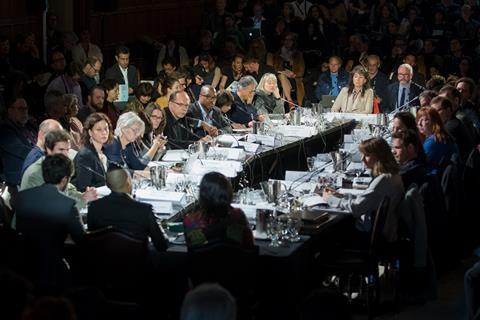 Canadian pitching event Hot Docs Forum has selected 20 films from 16 countries for its 2021 edition, which once again runs online as part of this year's Hot Docs international documentary market.
The Forum will take place May 4 and 5 and the films will be made available on the Hot Docs platform starting on May 6 and 7. The 28th annual edition of Hot Docs runs from April 29 to May 9 online.
Making up the Forum section are: Against The Tide (India), The Age Of Loneliness (Canada/US), Black Mothers (US), Blix (Czech Republic/Sweden), Breaking The Brick (Chile), Brigidy Bram: The Kendal Hanna Story (US/The Bahamas/South Africa), Fire Of Love (Canada / US), A Hawk As Big As A Horse (France), The Last Nomads (Serbia/Montenegro/Croatia), Light Of The Setting Sun (US), Made In Ethiopia (US/Canada), Mother Vera (UK), Possessing Einstein (Canada), Project X (Japan/UK/US), Swan Song (Canada), Untitled Marjolaine Grappe Film (France/US), Varado: The Curse Of Gold (France/Iceland) and Wilfred Buck (Canada).
Of the 25 filmmakers behind the films, 10 are BIPOC (black, indigenous and people of colour) and 20 are women.
Teams representing the Forum films will pitch their projects online to programming decision-makers, with participating organisations confirmed to date including A24, American Documentary POV, ARTE France, BBC Storyville, CNN Films, Netflix, Sundance Film Institute and ZDF/ARTE.
Forum projects will also be eligible for the First Look Pitch Prize, awarded by the philanthropic supporters and documentary investors that participate in the Hot Docs First Look programme, and the Canadian Forum Pitch Prize, presented in partnership with DGC National and DGC Ontario.
Selected Forum projects will also participate in Hot Docs Deal Maker, a curated one-on-one pitch meeting programme for which other projects will be announced next month.
Hot Docs Forum producer Dorota Lech said: "The projects selected for this year's Forum reflect Hot Docs' unwavering commitment to uplifting emerging filmmakers who, due to industry-wide financial constraints, combined with a lack of access to festivals as meeting places to approach bubbles of resources such as collective support and funding, have been the most affected by the events of this past year."