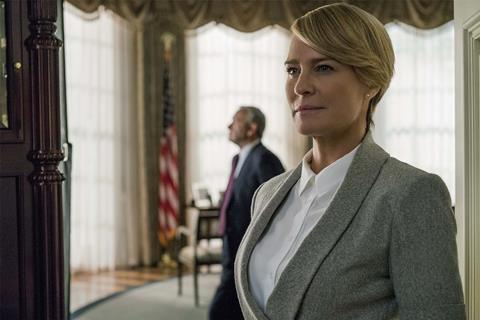 House Of Cards producer Michael Dobbs has said the final series of the Netflix drama will require "a great deal of rewriting" after lead Kevin Spacey was fired from the production (reports Broadcast).
The creator of BBC1's House Of Cards, who is also a producer on the US show, said only two episodes of the final series had been written when production was suspended last month by Netflix and producers Media Rights Capital following sexual misconduct allegations against Spacey.
Netflix chief content officer Ted Sarandos confirmed on Monday (5 December) that House Of Cards will resume production on its sixth series with Robin Wright cast in a leading role.
The streaming giant has reduced the episode order from 13 to eight, with plans to begin production early next year.
"The poor [writers] have been sweating over their candles and pens," Dobbs told Radio 4's Today programme.
"It's been really, truly difficult, but what Media Rights Capital, Netflix and the writers have done is superb. They have set some standards and they have come back with some fine, fresh new creative stuff."
Dobbs said it was a "relatively easy transition" to hand Wright a lead role in the final series, as her character, Claire Underwood, had already become "an equal star."
"It is hugely important that the series goes on," said Dobbs. "It is art imitating real life: you know that women will triumph over desperately flawed men."
Speaking at the UBS Global Media and Communications Conference, Sarandos said the streaming giant was looking to bring "some closure to the show for fans".
"We're excited for the 370 people who make House Of Cards and have done the best work of their lives on that show, and for the 2,000 people in Baltimore who have come to depend on that show for their jobs," he said.
Sarandos said the business was constantly contemplating how best to employ its $8bn content spend, noting that "a trade-off is being made constantly, measured in terms of the efficiency of the use of the dollar, against what else you would have done with it."
However, he noted that other factors, such as the "brand halo effect" of big events such as Stranger Things and The Crown, were important to the business.
"The BBC was out saying that we're spending more on The Crown than their entire programming budget for BBC2.
"The truth is that it is one of our most efficient shows relative to people watching and its ability to attract subscribers and retain subscribers. One of our most efficient uses of money [is what] we spend on The Crown," said Sarandos.
The Crown will return for a second series on Friday (8 December).