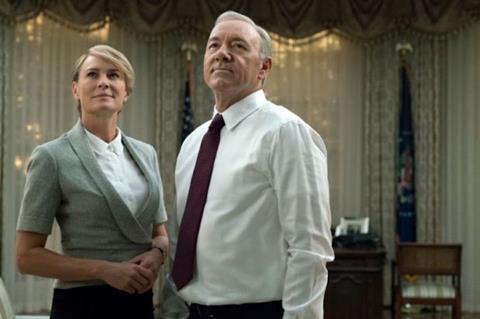 Production on the sixth and final season of the Netflix political drama has been suspended by Netflix and producers Media Rights Capital.
The two companies released the following joint statement on Tuesday: "MRC and Netflix have decided to suspend production on House Of Cards season six, until further notice, to give us time to review the current situation and to address any concerns of our cast and crew."
The news comes less than one day after Netflix announced that House Of Cards would conclude with the sixth season following allegations by Anthony Rapp, now 46, that the show's star Spacey made sexual advances towards him when he was 14.
The Emmy-nominated series had been in production in Baltimore on its sixth season when executives from Netflix and MRC arrived on Monday "to meet with our cast and crew to ensure that they continue to feel safe and supported." Spacey was not scheduled to be on set yesterday.
House Of Cards' sixth season was set to have 13 episodes, but with the indefinite shutdown in production, the final number of episodes is now unclear. The series is an important one for both companies. House Of Cards, which premiered in 2013, is an adaptation of the British series and Michael Dobbs' novel of the same name and was Netflix's first big push into original programming.
Melissa James Gibson and Frank Pugliese serve as showrunners and executive producers, after taking over from original showrunner Beau Willimon in season five.