US streaming giant and French rival Canalplay battle it out for SVOD audience.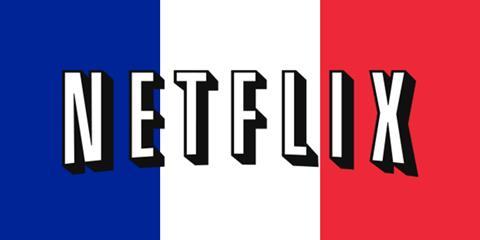 Netflix marked the first anniversary of its arrival in France on Tuesday (Sept 15) but in contrast to the glitzy, star-studded launch party on the banks of the River Seine and local media frenzy of last year it was a low-key affair.
Since its creation in 1997, the US streaming giant has set up shop in more than 50 territories across the globe but France - with its strict media chronology laws, strong home-grown film and TV industry and powerful local players led by Canal Plus - is seen as one of its most challenging launches to date.
The company does not divulge subscription data but estimates by various research agencies suggest that France - as expected - is proving a tough nut to crack.
A report released over the summer by Futuresource Consulting put the number of French Netflix subscribers at roughly 750,000, including those who are taking advantage of a free one-month trial.
Netflix CEO Reed Hastings told local media last year that the company was aiming to get a third of French households - which total around 16 million - to subscribe to the service in the first five to 10 years, with 10% of households regarded as the tipping point into profitability.
"Both France and Germany have been tougher launch markets for Netflix compared to the UK or Australia," Futuresource senior markets analyst Joanna Wright told ScreenDaily.
"In the UK, Netflix hit 1.4 million subscribers by the end of 2012 following its launch in January 2012."
"Futuresource estimates that Netflix is just ahead of CanalPlay in terms of total subscriptions in France (750,000) but with roughly 35% on a free trial. Futuresource estimates CanalPlay has more paying subscribers."
Canalplay puts up a fight
Launched in November 2011 by pay-TV giant Canal Plus, as rumours of Netflix's imminent arrival started to circulate, France's biggest SVOD service Canalplay currently has 700,000 subscribers, according to official figures announced within its parent company's 2015 first-half results at the beginning of September.
"According to our estimates, we're still ahead," said Manuel Alduy, who oversees Canalplay as head of Canal OTT - a newly-created unit and position he moved to at the beginning of 2014 after several years as Canal Plus's head of cinema.
From an initial offering of 2,000 films and 700 TV shows, the service has grown to 10,000 items over the last four years to include a large range of premium US series, back catalogue films and its first exclusive French-language series FRAT, about an anti-terrorist unit, which was launched in May.
"Canalplay continues to develop," Alduy said. "We've enriched the service on a number of levels both in terms of functionality - adding a download-to-go option and a new search engine - and enlarging the range of genres proposed."
Aside from FRAT, the service - which costs $9 to $11.50 (€7.99-€9.99) per month - is also experimenting with short format content provided by Maker Studios.
Netflix by comparison offers some 11,000 programmes, roughly 80% of which are US TV series. There is a limited selection of feature films - very few of which are French in origin. In fact, it is easier to watch a French film on the UK service than in France.
It is difficult to ascertain whether the lack of features is because French film rights-holders are refusing to do business with Netflix, or whether Netflix simply is not chasing feature film content for the French service due to France's chronology legislation stipulating a 36-month window between theatrical release and availability on the internet.
The selection of children's library films is strong, however, and after the premium TV shows, appears to be one of the key draws for French subscribers to the service.
In terms of original French content, the streaming giant's long-planned TV series Marseille, starring Gérard Depardieu, Benoit Magimel and Géraldine Pailhas, started shooting at the end of August for a 2016 release.
Netflix has also made a handful of straight to SVOD French feature acquisitions but producers have been asked not to publicise these deals.
Other players in the French SVOD market - which did not exist three years ago - include Wild Bunch's cinephile FilmoTV, Club Vidéo SFR, the children-focused TFOU Max and Spanish-based, Japanese-owned Wuaki.tv.
A plan by Orange, TF1, M6 and France Télévision to create a joint SVOD platform, which would have rivalled Netflix and Canalplay, was ditched over the summer.
Future prospects
Looking to Netflix's longer-term prospects in France, a number of research agencies predict that the company will ultimately take the lead in terms of subscribers.
Paris-based research agency NPA published a study in August suggesting that Netflix would top 900,000 subscribers by the end of 2015, rising to 1.8 million in 2016 followed by 2.7 million in 2018.
Futuresource's Wright also predicts Netflix will come out on top in the end.
"Netflix is expected to take the lead moving forward as a result of its key strategies including - wide accessibility - via a large range of devices and key partnerships, exclusive and original content and significant marketing campaigns," she said.
Canal OTT chief Alduy says he is treating the estimates with caution.
"We're extremely cautious about these estimates which ignore the diversity of audiovisual distribution in France, particularly on ipTV, and the VPN effect," he said, referring lastly to French viewers who subscribe to Netflix US via a virtual private network (VPN) to mask their true location.
Netflix's head of communications for Europe Joris Evers, based at the firm's European headquarters in Amsterdam, declined to comment on the company's performance during it first year in France or answer questions on its operations on the ground - which reportedly consist of a stripped down Paris-based team of three people; stance vis-à-vis film acquisition for its French service or future plans for new French-language original content.
French media and audiovisual reaction
French media and the all-powerful TV and film industries continue to scrutinise Netflix's performance and activities in the country.
The jury was out in the French media on whether its first year of operations in the country qualified as a success or a failure - with most concluding it had produced "un bilan plutôt mitigé", or "mixed results".
Much of the French audiovisual industry remains hostile to the company, meanwhile, complaining that it has an unfair advantage over local companies because it is not bound by the same production investment and fiscal obligations due to the fact it is based outside of the country, although some quarters agree with Hastings' view that the media chronology laws need to be softened.
It looks set to be an interesting, if rocky ride, for Netflix in France over the coming months.