International exports of Turkish TV could hit $350m in 2017.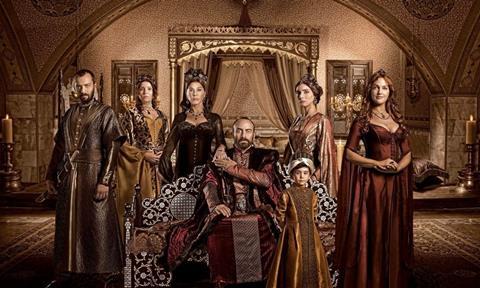 The Turkish TV industry has grown enormously on the international stage during the last decade - with export revenues expected to hit $350m per year by the end of 2017 - it was revealed during a presentation at Sarajevo Film Festival on Wednesday (Aug 16).
TV producer Selin Arat, whose company Tims & B Productions is responsible for some of the biggest Turkish hits including Magnificent Century [pictured] and Game Of Silence, hosted the talk during Sarajevo's CineLink industry programme, which has a strong TV focus this year.
She highlighted examples of successful exports such as Magnificent Century, which has sold around the world including to Russia where it was a smash hit, helping network Domashy to increase its channel ratings by 350%. Similarly, the series was a hit for Chilean broadcaster Mega TV, being the first Turkish series to break into the Latin American market, which Arat said was a "major breakthrough".
In 2016, the export market hit $300m in revenues, up from $10m in 2008.
As a result, the shows themselves have increased in size and scope. Arat noted that series now cost up to $800,000 per episode, and that stars could demand six-figure salaries.
Turkish series are hugely successful across Eastern Europe, the Middle East, and North Africa.
Arat highlighted a variety of reasons for this, including the rich culture of Turkey – it's various backgrounds, ethnicities, and religions – and its unique geographical situation between the East and West.
She added that the market was also seeing increased quality due to the intense competition between the more than 500 production companies in the country.
However, Arat noted that they were yet to crack North America, Western Europe, Oceania, or Southeast Asia. This could be more likely to happen in the form of Turkish series formats selling into those territories, she noted, using the example of Game Of Silence, which was the first Turkish series to be adapted for US television.
Challenges
However, Arat also warned that heightened television regulations due to Turkey's political climate were a challenge to the market.
"From 2012 onwards, the television ratings system is now more in line with the country's political climate. It's becoming more difficult to create premium content," she commented.
In response, digital platforms were becoming more important in the country as edgier series seek out online homes for content.
She used the example of Phi, the Turkish series which was broadcast on PuhuTV, clocking three million views in its first three days and a total of 70 million by the end of June, which Arat called a "huge success".