Sony's Spectre crosses £90m mark in sixth weekend, Victor Frankenstein alive - but only just.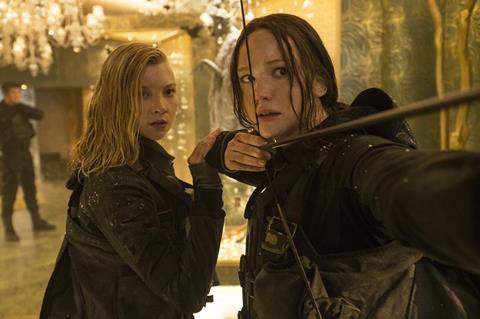 LIONSGATE
The Hunger Games: Mockingjay - Part 2 has become the first in the Hunger Games franchise to achieve a hat-trick of number one weekends in the UK.
Lionsgate's final chapter in the young adult franchise fell 51% with a $3.4m (£2.24m) third weekend, but still had more than enough to beat a lacklustre field of new releases.
Mockingjay - Part 2 now stands at $35.2m (£23.32m), but is tracking behind both Mockingjay - Part 1 ($38.1m/£25.25m) and Catching Fire ($39.6m/£26.27m) at the same stages in their run.
It will require a Christmas boost if it's to get to £30m and stand a chance of not finishing its run as the lowest-grossing sequel in the series.
Also for Lionsgate, Brooklyn stands at a healthy $7m (£4.6m) after a $165,000 (£109,182) fifth weekend.
DISNEY
The Good Dinosaur fell 42% on its way to a $2.6m (£1.7m) second weekend.
Disney's latest Pixar outing is up to a ten-day tally of $7.7m (£5.12m) and will hope for stronger holds - and better midweek performances - once the schools break up for Christmas.
Cars 2's $23.5m (£15.62m) result currently ranks as the lowest-grossing Pixar outing in the UK.
SONY
Spectre has become the first film since Skyfall to hit £90m at the UK box office.
Sony's latest James Bond mission enjoyed a $1.8m (£1.2m) sixth weekend for $136.3m (£90.5m) to date. Skyfall's $155m (£102.9m) is out of reach, but Avatar's $141.6m (£94m) could still be overtaken.
Also for Sony, the remarkable The Lady in the Van crossed the £10m mark with a $699,000 (£464,000) fourth weekend for a haul of $15.7m (£10.4m), while The Night Before struggled with a $410,000 (£272,000) debut from its 272 sites.
Hotel Transylvania 2 has amassed $29.4m (£19.5m) after eight weeks in play.
FOX
Remaining in fourth, Fox's Bridge of Spies posted the best holdover of the top ten, dropping just 33% (excluding previews) for a non-final $1.6m (£1.08m) second weekend.
Steven Spielberg's latest has now grossed $5.9m (£3.9m) after adding over $1.7m (£1.1m) across its first Mon-Thurs. It looks well-placed to play as counter-programming over the coming weeks.
Also for Fox, Victor Frankenstein is alive, but only just, at the UK box office with a non-final $649,000 (£430,990) debut from its 421 sites, including around $83,000 (£55,000) in previews, for a site average of just over $1,500 (£1,000).
That debut is just over half the $1.2m (£811,365) UK bow achieved by I, Frankenstein last year from 384 sites, which did include $246,000 (£163,158) in previews and was released in 3D.
Ahead of its release on Boxing Day, Snoopy and Charlie Brown: A Peanuts Movie banked almost $452,000 (£300,000) in previews on Saturday and Sunday.
Prem Ratan Dhan Payo and The Martian have taken $2.4m (£1.57m) and $35.3m (£23.43m), respectively.
EONE
The week's highest new entry came in the form of eOne's Christmas with the Coopers as it recorded a solid $1m (£683,217) debut from its 371 sites with an average of $2,775 (£1,842).
That includes $239,000 (£158,734) from its previews on Tues-Thurs, but it's worth noting that the comedy's Fri-Sun tally of $790,000 (£524,483) would have also seen it chart in the same position of fifth.
WARNER BROS
Dropping almost 50% (excluding previews) in its second weekend, Warner Bros' Black Mass shot to an extra $716,000 (£475,400) for $3.6m (£2.38m) to date.
UNIVERSAL
Krampus opened up with $622,000 (£412,691) from its 323 sites for an average of $1,926 (£1,678) through Universal.
It will hope to buck the fast-burn trend of horrors at the UK box office and hold well this coming weekend.
STUDIOCANAL
Falling around 40% (excluding previews), StudioCanal's awards contender Carol added a non-final $521,000 (£345,950) for $1.9m (£1.26m) to date.
It will soon become director Todd Haynes' best-ever UK performer, currently Far from Heaven's $2m (£1.3m) result.
METRODOME
Sunset Song has recorded the biggest UK debut for director Terence Davies despite charting outside the top ten in 12th.
Metrodome's drama grossed $172,000 (£113,853), including previews, from its 81 sites, topping The Deep Blue Sea's $164,000 (£108,767). The latter only opened on 53 sites, however.
PECCADILLO PICTURES
Including previews of $8,100 (£5,400), Peccadillo Pictures's documentary ChemSex posted a UK bow of $16,000 (£10,820) from its four sites.
NEW WAVE FILMS
Released in seven sites through New Wave Films, Bulgarian drama The Lesson posted a UK debut of $4,800 (£3,204).
UPCOMING RELEASES
This week sees a saturation release for Universal's By the Sea, while Sony's Grandma receives a wide release. Universal's Sisters starts previews from Saturday [Dec 12] ahead of its saturation release on Dec 18.
Dogwoof's Peggy Guggenheim: Art Addict, Soda Pictures' The Forbidden Room and Metrodome's Swung are among the films receiving a limited release.