Sony's Spectre falls to second with $5.8m (£3.85m) for $128.3m (£84.6m) and has overtaken Avatar as the highest grossing IMAX release in the UK.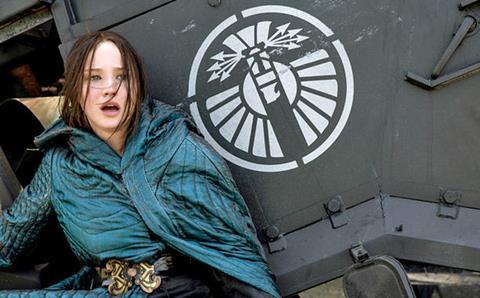 LIONSGATE
The Hunger Games: Mockingjay - Part 2 might not be going out on a series high, but still posted the year's seventh opening over £10m.
Lionsgate's climactic chapter in the young adult franchise scored a confirmed $17.07m (£11.26m) from its 576 sites, including $3m (£2m) from Thursday [Nov 19]. That marks the seventh biggest opening of 2015, both in terms of overall debuts and Fri-Sun tallies.
In terms of the Hunger Games series, Mockingjay - Part 2 has debuted behind the overall debuts of Mockingjay - Part 1 ($19.22m/£12.65m from 565 sites) and Catching Fire ($18.52m/£12.19m from 554 sites).
It's exactly the same story in terms of opening Fri-Sun tallies, with Mockingjay - Part 2's $14.03m (£9.26m) behind Part 1's $15.68m (£10.32m) and Catching Fire's $15.37m (£10.12m).
Mockingjay - Part 1 ($47.2m/£31.1m) failed to surpass Catching Fire's $52m (£34.2m) as the series' highest grossing outing to date. The slightly softer opening suggests that Part 2 will also likely struggle to match that benchmark as well.
Also for Lionsgate, Brooklyn fell 48% on its way to a $620,000 (£409,100) third weekend for $5.7m (£3.78m) to date.
SONY
As expected with the arrival of Mockingjay, Sony's Spectre suffered its first big drop of 50% on its way to a $5.8m (£3.85m) fourth weekend.
The latest mission for James Bond is now up to a stellar $128.3m (£84.6m) after 28 days in play, and Spectre is also now the highest grossing IMAX release in the UK with $10.09m (£6.66m), surpassing Avatar's $9.92m (£6.55m).
Spectre is now tracking behind Skyfall, which stood at $130.4m (£85.81m) at the same stage. As with Spectre, Skyfall faced young adult competition in its fourth weekend in the form of the climactic Twilight outing, posting a 47% drop with $8.47m (£5.57m).
Also for Sony, The Lady in the Van held extremely well as it dropped just 28% with a $2.5m (£1.62m) second weekend for a ten-day tally of $9.8m (£6.45m).
Before the weekend, it had already become director Nicholas Hytner's best-ever UK performer thanks to a terrific Mon-Thurs haul of over $3.8m (£2.5m). Expect this film to stick around for a few weeks yet.
Hotel Transylvania 2 added a further $818,000 (£540,000) for $29.2m (£19.25m) after six weeks in play, while The Perfect Guy recorded a UK bow of $152,000 (£100,000) from its 100 sites.
UNIVERSAL
Falling over 50% in its second weekend, Universal's Steve Jobs grossed $612,000 (£404,026) for a ten-day tally of $2.7m (£1.78m).
It has at least avoided becoming Danny Boyle's lowest UK outing, Millions' $2.3m (£1.5m), but will end up as one of the director's weakest performances.
ENTERTAINMENT
Charting seventh on its UK bow, Entertainment's The Dressmaker took $357,000 (£235,668) from its 200 sites and will hope to improve over mid-week given its older-skewing audience.
Also for Entertainment, Burnt has amassed $1.6m (£1.06m) after three weeks in play.
WARNER BROS
After six weeks in play, Warner Bros' Pan has now sailed to $13.2m (£8.69m) following a $349,000 (£230,000) weekend.
FOX
After its strong opening last weekend, Fox's Prem Ratan Dhan Payo fell 68% (excluding previews) with a non-final $330,000 (£217,514) for $2.1m (£1.4m) to date.
Also for Fox, The Martian and Suffragette have amassed $35.3m (£23.32m) and $14.5m (£9.56m), respectively, while The Crow's Egg posted a UK debut of $3,800 (£2,481) from its six sites.
CURZON ARTIFICIAL EYE
Thanks for the hefty chunk of previews, Curzon Artificial Eye's Love recorded a $66,000 (£43,321) opening from its 13 sites, with $18,000 (£12,148) taken over Fri-Sun.
That does mark Gaspar Noé's best UK debut ahead of Irreversible's $55,000 (£36,165) from 16 sites, and Love's challenge will be that film's $266,000 (£175,437) tally as Noé's highest grossing outing.
EONE
For eOne, The Last Witch Hunter and The Hallow have taken $4.2m (£2.76m) and $137,000 (£90,258), respectively, while Mr. Calzaghe grossed $1,100 (£731) from its three sites on its UK bow.
UPCOMING RELEASES
This week sees saturation releases for Warner Bros' Black Mass (opens Nov 25), Fox's Bridge of Spies (opens Nov 26) and Disney's The Good Dinosaur.
StudioCanal's Carol receives a wide release, while Dogwoof's Unbranded, Picturehouse Entertainment's Radiator and the BFI's re-release of Doctor Zhivago are among the films receiving a limited release.