EXCLUSIVE: Macedonian film-maker Izer Aliu's next film will be comedy-drama 12 Dares.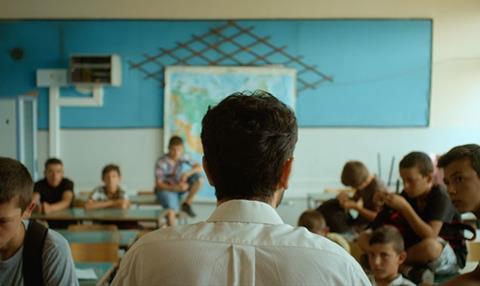 Macedonia-born, Norway-based director Izer Aliu, who premieres his debut feature Hunting Flies [pictured] in Discovery (sold by LevelK), is currently editing his second feature 12 Dares and has two other features in the works.
12 Dares, one of the best-received projects pitched in Haugesund's Work In Progress last month, will be finished by the end of the year to show to early 2017 festivals.
He is also keen to stay busy with personal work between bigger projects, making a "freestyle" feature called The Balkan Party, which he calls a side project without typical funding. That will shoot in February in Norway, and tell a story of youth clubs from different ethnic groups organising a joint party. The film explores prejudices between groups but Aliu says it is "mostly comedy."
12 Dares, a Swedish-Norwegian co-production produced by Lizette Jonjic of Zentropa Sweden, Maria Ekerhovd of Mer Film and Khalid Maimouni of Storyline, is a comedy-drama about a 16-year-old boy in Ryd, Sweden, who has to do 12 misdeeds to prove his loyalty to his gang of mates. He cast young amateurs in the lead roles.
Aliu set the film in a lower-income multi-cultural community where he grew up. It's the kind of area that's usually seen as sad or dangerous in most films, but he says he wanted to show the "happy stuff" and "lively" side of the youth culture there.
Maimouni said 12 Dares "is the most personal film Izer has made yet. I see a lot of him in each character."
Hunting Flies is the first feature from Storyline Pictures, the new production arm of post-production and rental company Storyline Studios.
Aliu is also planning a larger-budget period film, Song Of Scabs, about 1500 miners in northern Norway striking in 1907. "It's very political… I was very revolutionary in school, I love the solidarity films," he says.
That film, which Maimouni will produce alongside Tom Vidar Karlsen and Trond Eliassen, will start shooting in late 2017 or early 2018, in northern Norway and probably also Denmark.
Aliu's version won't be a typical historical story. "It won't be brown and slow," he promises. "It's an interesting period in time. You're making film about humans in the end, it's universal."
Hunting Flies, is a satirical fable about an idealistic teacher in rural Macedonia who wants to inspire his young students to overcome generations-long village rivalries.
Aliu's shorts include award winners To Guard A Mountain and The Good Life - Over There.