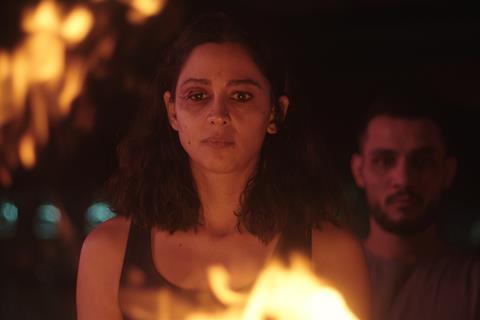 Egyptian director Sameh Alaa's coming-of-age story I Can Hear Your Voice… Still and Jordanian director Bassel Ghandour's drama The Alleys, have led the awards at the Cairo Film Connection, the co-financing platform of the Cairo International Film Festival (CIFF).
Eleven projects in development and four works in post-production were showcased at the event which meted out prizes from some 19 organisations worth $250,000 in total
I Can Hear Your Voice… Still won the $10,000 Arab Radio Television (ART) prize, a $10,000 cash award from Egyptian production and distribution company Red Star Films, as well as participation in an online development support programme from the Los Angeles-based Film Independent. It also won a further two awards offering promotional and marketing support.
It marks the debut feature of Alaa, who recently won Cannes's only Palme d'Or for his second short I Am Afraid To Forget Your Face, at the festival's special mini-edition in October.
Alaa has also recently been named as one of Screen International's six Arab Stars of Tomorrow for 2020 initiative which was launched in participation with CIFF for the second year.
The coming-of-age tale revolves around a teenage girl's misadventures over the course of one night in the Eygptian city of Alexandria, when she sets off in her sick father's taxi to raise money for his hospital treatment. The project reunites Alaa with producer Mark Lotfy at Fig Leaf Studios, who was behind I Am Afraid To Forget Your Face.
The Alleys, which is in post-production, won the $10,000 Badaya Award as well as $10,000 cash prize from the Egyptian film company New Century and a $50,000 licensing agreement with Middle East broadcaster OSN.
It marks the debut feature of Ghandour, who co-wrote and produced the 2016 Oscar-nominated drama Theeb. Set against the backdrop of a claustrophobic East Amman neighbourhood, it revolves around a young hustler who gets into hot water when he is caught on camera romancing a young respectable woman. Rula Nasser is producing.
Further buzzy projects included Snow White by Taghrid A. Maksoud Abouelhassan. It revolves around a little person who goes online to find a partner but hides her dwarfism from her virtual suitors. She then finds herself caught between a tall man and another little person who is devoted to her but embodies everything she hates about herself.
"The story is about self-acceptance that all of us can relate, whether a man or a woman," said Abouelhassan. She explained how she connected with the Egypt's little people association to research her screenplay and had cast a little person who works as a pharmacist and also has an influencer profile within the dwarfism community.
It is produced by Egyptian-US producer Miral El El Fakharany, who produces under the banner of Plot Head with Dina Farouk at Wika For Films And Productions.
The project won participation in the International Emerging Film Talent Association's mentorship programme and UNFPA award, comprising fees and travel for an educational programme.
This year's selection also included Yousry Nasrallah's drama The Legend Of Zeinab And Noah about a teenage girl who steals her mother's dead body in a bid to stop her final burial. Nasrallah plans to work with young non-professional actors. The director's pitch transformed into a mini masterclass as young producers and filmmakers in the pitching session quizzed the director about other aspects of his filmmaking and method.
He revealed that the look of the film would be informed by the paintings of French artist Henri Rousseau. "The real source of inspiration will be the paintings of Rousseau and this very naïve yet sophisticated universe where imagination and realism come together, explained the director. "There's always some kind of visual influence in my work that I resort to for some type of coherence."
The project also won multiple prizes including the $10,000 Lagoonie cash award and $10,000 Mad-Ergo distribution award as well as post-production and marketing support.
The project is being produced Ali El Arabi under the banner of his Ambient Light.
In other awards, Jordanian Berlin-based director and producer Rand Beiruty won the Arab Cinema Center prize for her documentary Tell Them About Us, following young Arab, Roma and Kurdish girls growing up on provincial Germany. She will now participate in the International Film Festival Rotterdam's Rotterdam Lab, a five-day programme aimed at emerging producers which will take place online this year.
The Cairo Industry Days are managed by Aliaa Zaky with the support of the Cairo-based Arab Cinema Center. The Cairo Film Connection was managed by Mariame Deghedi.