EXCLUSIVE: The Sand and Aaaaaaaah! among first FrightFest Presents acquisitions.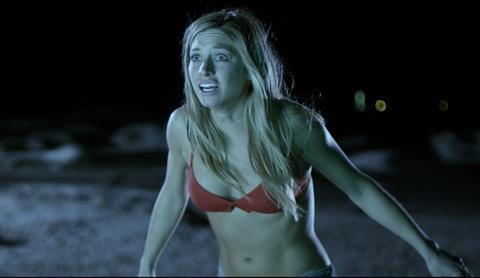 UK distributor Icon Film Distribution and UK horror festival FrightFest have set the first films to be released under their FrightFest Presents banner.
An initial seven genre films have been selected by the distributor and festival for the new online label, with others to be added soon.
The films will premiere at FrightFest, which gets underway in London on Thursday (Aug 27), before unspooling online between October and February 2016.
Digital partners will include iTunes, Virgin Movies, Sky, Google Amazon, Xbox , Blinkbox, Google, Wuaki, TalkTalk and Volta.
First titles
Among the first batch of titles is Sightseers actor-writer Steve Oram's surreal 'monkey comedy' Aaaaaaaah!, which Icon will release online this October.
Oram stars alongside Noel Fielding (The Mighty Boosh), Alice Lowe (Sightseers), Lucy Honigman (The Ex-PM), Julian Rhind-Tutt (Lucy), Julian Barratt (The Mighty Boosh) and Toyah Willcox (Quadrophenia) in the story of a tribe of warring 'monkeys'.
Creature Feature The Sand, directed by Isaac Gabaett, follows a group of hungover twentysomethings who wake up on a carnivorous beach that devours anything with a heartbeat.
Mitchel Musso (Monster House), Dean Geyer, Nikki Leigh (Unlucky Charms), Brooke Butler (All Cheerleaders Die), Jamie Kennedy (Scream) and Meagan Holder (Jersey Boys) star.
Thriller Landmine Goes Click, from director Levan Bakhia (247°F), follows the tense fallout when a man stands on a landmine while hiking in Georgia, while home-invasion horror Emelie, from director Michael Thelin (Matisyahu: Run + Return), stars Sarah Bolger (The Lazarus Effect) as a psychologically disturbed babysitter.
In sci-fi-horror Afterdeath from directors Gez Medinger and Robin Schmidt (Gumball 3000: Around the World in 8 Days) five young people who wake up dead on a beach are attacked by a demonic shadow creature.
Miranda Raison (24: Another Day, Silk), Sam Keeley (Monsters: Dark Continent) and Daniella Ketesz (World War Z) star.
Adam Levins' psychological thriller Estranged, executive produced by Steven Schneider (Insidious), stars Amy Manson (Atlantis) Nora-Jane Noone (Brooklyn), James Cosmo (The Legend of Barney Thomson) and James Lance (Northern Soul).
The sinister thriller follows a wheelchair-bound daughter who discovers that her family might not be as loving as they seem.
Lastly, thriller The Lesson, about a teacher who enacts punishment on two students, comes from director Ruth Platt.
Each release will have the collective backing of IFD and FrightFest across marketing, PR and social channels.
Icon, which garnered breakout successes in 2014 with The Babadook and this year with It Follows, will add to the slate across the year.
Exclusive distribution deal
For FrightFest, the partnership offers a first exclusive distribution deal, and will build on the festival's growing brand, which is also represented through a curated line-up at the Glasgow Film Festival.
Paul McEvoy, co-director of FrightFest said: "These and our other exciting forthcoming titles brilliantly showcase the breadth and quality of work being produced in the worldwide fear and fantasy arena."
Zak Brilliant, head of distribution for IFD, said: "Working closely with the FrightFest team we have brought together a terrific range of titles for the launch of the label in October and beyond. It's a slate full of scares and surprises that we can't wait to unleash".
Sophie Wong, head of TV and digital sales for IFD added: "We have had a great response from our digital partners to the FrightFest Presents label and the collection of titles; a really strong indication of the market potential for genres with committed fans who are allied to an established brand."
Icon's 2016 theatrical horror slate includes The Forest, starring Natalie Dormer, and Nicolas Winding Refn's The Neon Demon.