Oscar-winning French director to revisit infamous case of Tennessee novelist accused of murdering wife.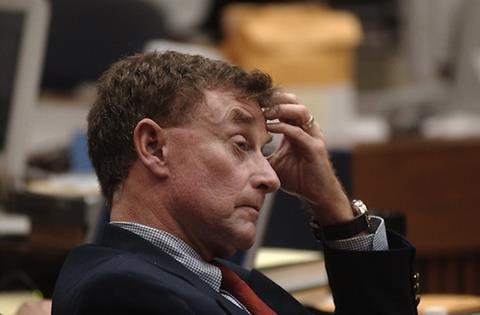 French director Jean-Xavier de Lestrade is set to make a third instalment of his popular real-life crime thriller, The Staircase, revolving around Tennessee novelist Michael Peterson who was accused of murdering his wife in 2001.
Lestrade has followed the case since Peterson's original trial in 2003 on charges of killing his wife Katherine, who was found in a pool of blood at the bottom of a staircase with injuries to her head.
That trial – at which Peterson was found guilty — was at the heart of Lestrade's hit, 2004, HBO-backed miniseries The Staircase.
It is regarded as a seminal true-crime series and Sarah Koenig, creator of the hit podcast Serial, has cited it as one of her inspirations for her own episodic, murder-mystery investigation.
A 2011 one-off feature documentary The Staircase – The Last Chance, followed a retrial of Peterson, after evidence tampering was uncovered, at which he was acquitted.
Five years later, and now 71-years-old, Peterson faces a final, decisive new trial early next year.
The prosecutor is pushing for him to sign a plea deal for simple assault, which would result in the case being closed and him being free forever. But Peterson has always been adamant that he is innocent.
'Large owl' implicated
Lestrade - accompanied by producer Matthieu Belghiti of What's Up Films and Philippe de Bourbon, commissioning editor at Canal+, which is backing the film – launched the third instalment, entitled Staircase III, at the Forum co-financing event of the International Documentary Festival Amsterdam (IDFA) this week.
He said that a new theory – implicating a large owl in the death of Peterson's wife – was due to be presented during the trial and was likely to give it a fresh twist.
"It is perhaps the most plausible theory to date… the type of lacerations on Katherine Peterson's head have always puzzled investigators," said Lestrade.
"I started following this story at the end of 2001. I'd like to finish the work I've begun. I don't really make documentaries anymore, but this is one story I'd like to follow to its conclusion.
"The series and the first film travelled the world and audiences want to know what happens next."
Canal+
French pay-TV network Canal+ has put €140,000 ($150,000) into the production, which is budgeted at around €450,000 ($480,000).
Other documentaries on the broadcaster's current slate include Clear, Loud, Bright, Forward, about Benjamin's Millepied's directorship of the National Opera of Paris, and Terror Studios: Inside the ISIS Propaganda Machine by Diego Bunuel.
Lestrade shared an Academy Award with Denis Poncet in 2002 for their joint documentary Murder on a Sunday Morning, about a Florida 15-year-old who was wrongly accused of murder.
He has since moved into fiction, recently directing the TV drama series Malaterra, the French remake of UK series Broadchurch set in Corsica.
IDFA Forum
A total of 59 projects were presented at IDFA Forum (Nov 23-25), including new films from Leonard Retel Helmrich, Mads Brugger and Frida and Lasse Barkfors, who the Special Jury Prize for impact at Sundance this year with Pervert Park.