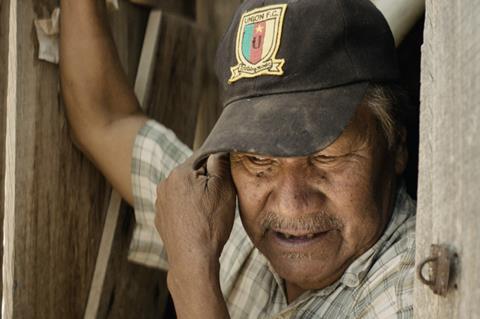 The world premiere of Paraguayan-Swiss director Arami Ullón's Nothing But The Sun will open the 33rd International Documentary Festival Amsterdam (IDFA), with the festival announcing its final competition sections.
Produced by the director's Paraguayan company Arami Ullon Cine, Ullón's second documentary feature contrasts the arid atmosphere of Paraguay's Chaco region with the stories of the Ayoreo people, an Indigenous community uprooted from their ancestral territory by white missionaries.
The film will open the festival in the feature-length competition on November 18, with the event running until December 6.
IDFA has announced the participating titles in its feature-length, first appearance, mid-length and DocLab sections; as well as the non-competitive DocLab Spotlight section; and the Creative Use of Archive competition.
12 titles including Ullón's have been selected for the feature-length competition. Among them are Claire Simon's The Grocer's Son, the Mayor, the Village and the World, about a documentary streaming platform created on a one-street village in southern France; and Inside The Red Brick Wall, depicting the student protests in Hong Kong in 2019 and made by a group of filmmakers.
The full lineup now comprises 258 titles from 72 countries. 48% of the filmmakers are women – a figure that rises to 57% for the filmmakers in competition.
There will be no awards in the DocLab strand this year, due to travel and exhibition restrictions preventing all the films from being shown to an international jury. IDFA has prepared an alternative scheme to celebrate and support the DocLab competition projects.
"Amidst all the uncertainty and big questions of this era, the films and the new media projects we watched, discussed, and selected offered us hope and affirmed our faith in the future," said Orwa Nyrabia, IDFA artistic director. "Here's a more inclusive program than ever, a program that takes us a step further from the overwhelming immediate moment and shows us a larger worldview. It protects our sanity and helps us find balance in the middle of all the chaos."
On October 16 the festival unveiled modified plans for the hybrid event, with a scaling-back of the physical side following the introduction of a 'partial lockdown' in the Netherlands to combat the spread of Covid-19.
The IDFA Forum industry strand will take place fully online, from November 16-20.
IDFA 2020 feature-length competition
Gorbachev. Heaven (Lat-Cze) dir. Vitaly Mansky
The Grocer's Son, the Mayor, the Village and the World (Fr-Bel) dir. Claire Simon
Inside The Red Brick Wall (HK) dir. Hong Kong Documentary Filmmakers
Morning Star (Mad-Reu) dir. Nantenaina Lova
Nemesis (Switz) dir. Thomas Imbach
The New Gospel (Ger-Switz-It) dir. Milo Rau
Nothing But The Sun (Switz-Par) dir. Arami Ullón
Odoriko (Jap-US-Fr) dir. Yoichiro Okutani
Radiograph of a Family (Nor-Iran-Switz) dir. Firouzeh Khosrovani
Le temps perdu (Arg) dir. Maria Alvarez
War and Peace (It-Switz) dir. Massimo D'Anolfi, Martina Parenti
White Cube (Neth-Bel-Dem Con) dir. Renzo Martens