Alberdi, Grude, Lozinski and Koguashvili set to compete in main competition.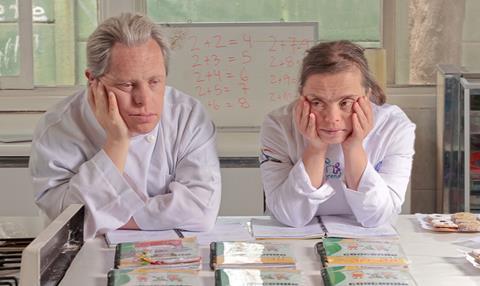 The International Documentary Festival Amsterdam (IDFA) has unveiled the line-up for its 29th edition, which is set to take place Nov 16-27.
The 15-title competition line-up includes Chilean director Maite Alberdi's The Grown Ups, about four adults living with Down's syndrome.
It follows her award-winning Tea Time about five septuagenarians who have been meeting for tea and cake once a month for 60 years.
Other contenders include Mogadishu Soldier by prolific Norwegian documentary producer and director Torstein Grude; respected Polish documentarian Pawel Lozinski's exploration of a mother and daughter's relationship You Have No Idea How Much I Love You, and Gogita's New Life by Georgian director Levan Koguashvili, which follows a recently-released prisoner's search for a wife.
Koguashvili is best known internationally for his fiction feature Blind Dates.
A total of 297 films will screen at the festival, 102 of which will world premiere. There were 3,496 submissions this year.
Other highlights include a retrospective of the work of Sergei Loznitsa.
The revered Ukranian director has also compiled the festival's annual top 10 sidebar. Titles in his selection include Chantal Akerman's From The East, Krzysztof Kieslowski's I don't Know and Soviet era classic Lullaby by Dziga Vertov.
This will be the last year in which IDFA's founder and director Ally Derks is in full control of the festival. After this year's edition, Derks is due to take a position as an invited fellow of the Robert Bosch Stiftung foundation in Berlin.
She will remain affiliated to IDFA in 2017 but on sabbatical and will then officially leave after the 30th-anniversary celebrations in November 2017. Filmmaker Barbara Visser will take over as interim director in 2017.
The Competition Line-Up
Synopses provided by IDFA
Amateurs in Space (Denmark/Croatia) by Max Kestner
A real Boy's Own story about two Danes who dream of building a rocket and making the first ever manned amateur flight to the moon.
Burning Out (Switzerland/Belgium/France) by Jérôme le Maire
Doctors in a Parisian hospital are fighting a life-and-death battle. Everything's got to be cheaper, quicker and more efficient. A glimpse of imminent burnout in the healthcare system.
Gogita's New Life (Georgia) by Levan Koguashvili
Following a lengthy term in prison, all Gogita wants is to be married. His mother lobbies for a pretty, slim girl in this tragicomic quest for love and happiness.
The Good Postman (Finland) by Tonislav Hristov
Tragicomic portrait of a Bulgarian border village where an ambitious postman looks for solutions to depopulation and the refugee crisis.
The Grown Ups (Chili/the Netherlands/France) van Maite Alberdi
A moving, confrontational portrait of four Chilean adults with Down's syndrome. Although they feel ready for adult life, society doesn't agree.
How to Meet a Mermaid (the Netherlands/Denmark/Belgium) by Coco Schrijber
The beauty and devastating power of the ocean has fascinated many people. Including the filmmaker's missing brother.
In Place of the Parents (Ireland/Spain) by Neasa Ni Chianain
A year in the life of two dedicated and passionate teachers at an Irish boarding school for young children, captured in affectionate observational scenes.
Like Dew in the Sun (Switzerland) by Peter Entell
Through the eyes of a compassionate outsider, documentary maker Peter Entell investigates why the Ukraine, where his ancestors lived, is so often at war.
Machines (India/Germany/Finland) by Rahul Jain
A mesmerizing, rhythmic portrait of everyday life for workers at a textile factory in India. There is enchanting beauty here, but the film also reveals deplorable conditions.
Miss Kiet's Children (the Netherlands) by Petra Lataster-Czisch and Peter Lataster
The turbulent first year for a class of migrant children at a Dutch primary school; they learn Dutch, make friends and overcome traumas with inspirational help from Miss Kiets.
Mogadishu Soldier (Norway/Finland/Denmark) by Torstein Grude
Filmed by soldiers, an honest and revealing look behind the scenes of the UN peace mission in Somalia.
Nowhere to Hide (Norway/Sweden) by Zaradasht Ahmed
Oppressive war report by Iraqi father and male nurse who is forced to flee when his home city is occupied by IS.
Still Tomorrow (China) by Jian Fan
The painfully frank Xiuhua Yu – a farmer, disabled by cerebral palsy, unhappily married – makes a dramatic breakthrough as a poet. Will fame solve her problems?
What We Have Made (France) by Fanny Tondre
Beautiful, warm portrait of a huge construction site where thousands of men work long days among the scaffolding, concrete mixers and their colleagues, sharing good times and bad.
You Have No Idea How Much I Love You (Poland) by Pawel Lozinski
Painful, tense psychotherapy sessions, filmed up close. A mother and daughter gradually become closer through accusations, sorrow and rage.